Jamaica's Steve Mullings gets life ban for doping
Last updated on .From the section Athletics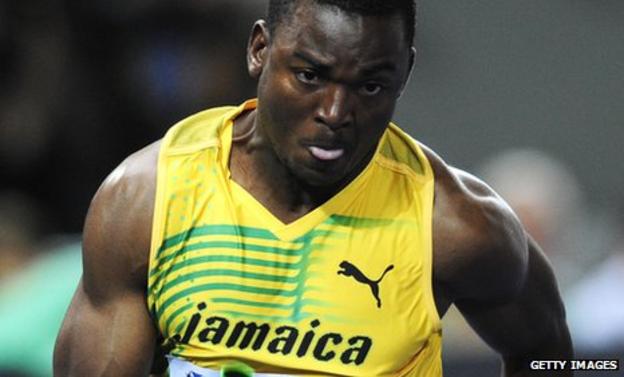 Jamaican sprinter Steve Mullings has received a life ban after being found guilty of a second doping offence.
The 28-year-old was found to have used the banned diuretic furosemide, which can act as a masking agent for other drugs.
He previously served a two-year ban after testing positive for excessive levels of testosterone in 2004.
Mullings, the sixth fastest man of all time over 100m, won gold in the 4x100m relay at the 2009 World Championships.
"The panel believes a clear and strong message must be sent to every athlete in Jamaica and elsewhere that prohibited substances will not be tolerated in sports," said Jamaican anti-doping disciplinary panel chairman Lennox Gayle.
Gayle added that the panel's decision had been unanimous.
Mullings, who has denied knowingly taking any banned substance, did not attend his hearing.
In 2009 four other male Jamaican athletes, including 2011 world champion Yohan Blake, were suspended for three months after positive tests.
Jamaica's Olympic 100m champion Shelly-Ann Fraser returned from a six-month ban earlier this year after testing positive for banned narcotic oxycodone.