London 2012: Allan Wells on winning 100m gold in 1980
By Peter Scrivener
BBC Sport
Last updated on .From the section Athletics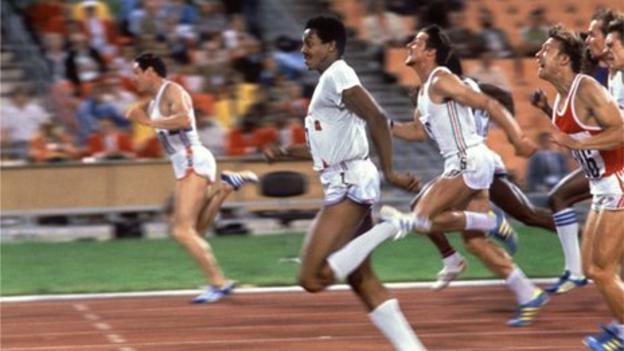 Allan Wells will never forget the picture of the dead child sent to his home in an attempt to persuade him to boycott the 1980 Moscow Olympics.
The British government had resorted to the shocking tactic as a way of encouraging athletes to join the United States-led protest over the Soviet Union's invasion of Afghanistan.
But far from keeping Wells away from the Olympics, the gut-wrenching image actually made his mind up to go.
And in the face of the political pressure and mental trauma, the Scot would go on to enjoy what he says is the most significant moment of his life - winning 100m gold.
"One of the pictures I received from 10 Downing Street was of what looked like a dead young girl, face down, with an outstretched arm reaching for a doll," Wells tells BBC Sport.
The package was one of four that the Wells household received in the run-up to the Games. Alan's wife Margot had kept the others away from him before curiosity intervened.
"The letter had words to the effect that this is what the Soviet army are doing in Afghanistan," continued the 59-year-old. "It was a truly horrific picture and that is why I will never, or can never, forget it."
The government's questionable tactics backfired, however, as Wells not only vowed to compete but came within a whisker of completing the 100m and 200m double.
"I was going and that decision was taken when I saw the letter with the picture in it," says Wells. "You've got to sit up when you get letters from the government and I gave it a lot of respect, but if I didn't go it wasn't going to make any difference to what was happening in Afghanistan.
"Thankfully, the British Olympic Association took the same stance in respect of allowing the athletes as individuals to make up their own minds."
Wells ran a British record 10.11 seconds to reach the semi-final and followed that with a 10.27 to earn a place in the final.
"Everything worked 100% until I got to the final," he says. "There was apprehension, public pressure - it wasn't something deep, just something I was aware of.
"I was standing on the starting line and saying, 'This is the Olympic final, this is the first time you've ever been here, it might be the last.'
"All sorts of little gremlins can go through your head. I've always said the six inches between your ears is your make or break. It could knock 10 bells out of you or help you achieve what I achieved."
However, his victory was devalued by those who felt the absence of the Americans weakened the field - although he would go on to beat the top American sprinters in the weeks after the Olympics - and while Wells conceded that the boycott gave him a better chance of success, he reasons: "You've still got to make the final before you try to win an Olympic gold medal."
Wells, running in lane eight, edged out Cuba's Silvio Leonard by the smallest possible margin to become, at the age of 28, the oldest man to win the 100m at that time.
A false start did little to ease his nerves but it did give Wells the opportunity to improve on a poor reaction the first time the gun had gone off.
"I had a bad start and I told myself I had to get hold of myself and get out and run," he says. "I had Osvaldo Lara [in lane seven] trying to put pressure on me and I wasn't happy with the second start.
"I think Lara was running for his countryman Leonard and I didn't get to him until about 30m and past him at about 60m. After that, it was between Leonard and I.
"We were too far away to be able to physically compete and know where each other was [Leonard was in lane one]. If we'd been in adjacent lanes it would have been different."
Both sprinters were awarded a time of 10.25 seconds but Wells's famous dip won him the race.
"They were showing a replay on the big screen, for the first time ever at an Olympics," Wells recalls. "It was quite blurry but I did feel I just edged it and that's when I decided I'd do a lap of honour and off I went.
"I was hoping I wasn't going to be the most embarrassed Olympian in that stadium that night and fortunately I wasn't."
In a nod to the boycott, all five British winners in Moscow - Steve Ovett (800m), Sebastian Coe (1500m), Daley Thompson (decathlon) and Duncan Goodhew (100m breaststroke) - received their medals under the Olympic flag while the Olympic anthem was played instead of God Save the Queen.
"That was the least we could do and while it was a wee bit disappointing [not to have the Union Flag raised], it was justifiable," said Wells.
Later in the Games, Wells almost added the 200m gold medal but this time he was the one edged out on the line.
"People forget about the 200m and a win may have changed a lot of things," said Wells. "I was up against Italy's world record holder, Pietro Mennea, and he had physical and mental energy that he hadn't used up in the 100m.
"Did I have the psychological hunger to go out and win another Olympic gold medal? If I hadn't won the 100m, my attitude to the 200m would have been different.
"It was only in the last 15m that he came up on my shoulder and I took a couple of hundredths of a second off him with my dip. I thought I'd got him on the line but in real terms it was about eight inches, two-hundredths of a second.
"It may have changed a lot of things [had I won] but to make a final is a fantastic achievement and to win a medal of any colour is phenomenal.
"To win a gold, sometimes I have to pinch myself and think I did win that medal. It was the most significant thing that's ever happened in my life."