Jessica Ennis plots path to gold at London 2012
Last updated on .From the section Athletics
In the first of a weekly series profiling leading British Olympic hopes in the build-up to the Games, BBC chief sports writer Tom Fordyce speaks to heptathlete Jessica Ennis.
Friday 3 August might feel a long way off to most of us. Not to Jessica Ennis. A lot can happen in eight months. For Ennis, a lot has to.
Early on that summer morning, Ennis will crouch on her blocks inside Stratford's Olympic Stadium for her heptathlon 100m hurdles heat. Some 30 hours later, she will know whether she has done enough to win Olympic gold. The countdown has begun.
"You try to do things like you ordinarily would, but it creeps into your head," she says. "When I'm doing a really hard session, I think of the Olympics in August and it gets you through it."
When you have to be expert in seven different events, your hours and days can slip away in dramatic fashion.
Take away competitions and rest days, and - even assuming not a single hour is lost to injury - you're left with a number of training sessions that is not just finite but frighteningly limited.
"We had 244 training days available from October 1 2011," says Ennis's coach Toni Minichiello. "You always think you have a year from the end of the previous season, but you don't.
"Jess needs one rest day off a week, a week off after the big meet in Gotzis and the World Indoors, so those available days drop straight away.
"Then there are the bank holidays when the facilities aren't open so you can't train, and I've then lost 4% of those remaining days in meetings, which is unnecessary and irritating.
"We've now done 13 weeks of the 44, so we've got 31 left. That's not long. It's spinning plates. You have to keep them all spinning at the same rate; if you need to do some extra work on one event, great, but where do we lose that effort to create the time?"
When the gun goes for that hurdles heat in early August, Ennis will be 26 years old, the same age as Daley Thompson when he won the second of his two Olympic decathlon golds.
Time flies faster in every way for multi-eventers. Thompson, at his buccaneering, bellicose peak in the Olympics of 1984, would never again hit the heights of Los Angeles, his body unable to cope with the ceaseless demands thrown at it.
"The training has to be different at 26," admits Minichiello. "You can't thump the body in the same way.
"Year on year, the Jess machine has got better, but you have to get smarter. You have to find sleep time, rest time, alter the way you approach medical support, build in checks and balances."
Just as Thompson had the giant German Jurgen Hingsen clambering all over him, so Ennis has a far more physically imposing rival in Tatyana Chernova. The Briton stands 5ft 5ins, the Russian 6ft 2ins.
Until last summer's World Championships in South Korea, however, Ennis's consistency and relentless succession of heptathlon personal bests had enabled her to stay a step ahead.
Not any more. With Chernova's gold in Daegu came a redrawing of the rivalry. Now the wider public is aware of something athletics aficionados have known for a long time: if Chernova performs to her very best across all seven disciplines, her overall points total is higher than Ennis's current best.
"When I don't want to train, when it's a horrible cold and wet day, I do think that Chernova and the rest of them will be training really hard," says Ennis.
"I don't break it down into individual sessions. I can't worry about how many reps she'll be doing in the weights room, or how heavy the weights are. I have no control over that, and worrying about it would make me crumble.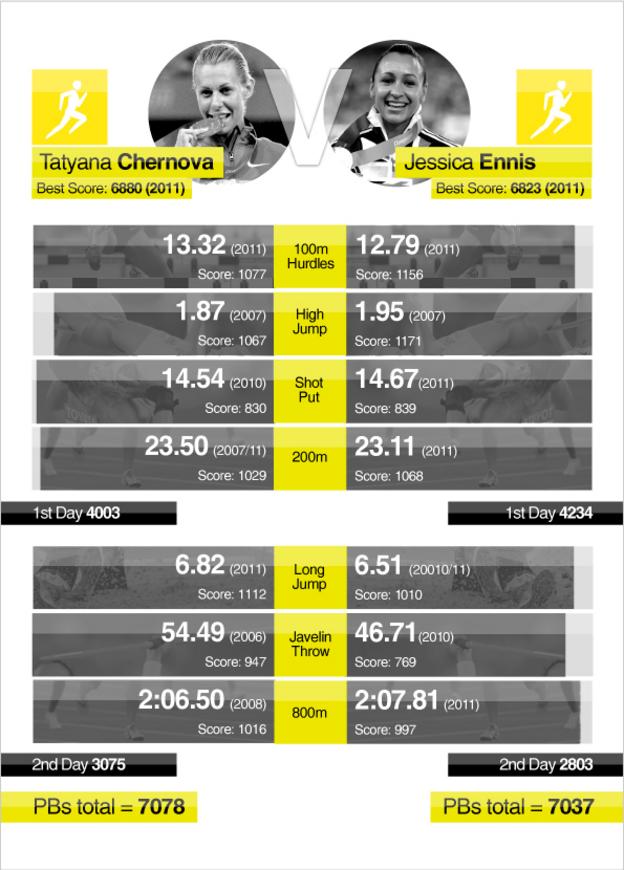 "Chernova and I are very close in terms if our overall scores, so it's not about chasing each other. We're both there. It's about being consistent and delivering your best over those two days.
"I definitely use her as a spur. But we get on well - as well as you can when you're going head to head with someone and competing against them.
"Everyone will build up this big rivalry, but I don't see it like that. I'm not writing off [Nataliya] Dobrynska and Hyleas Fountain - it's not just about me and Chernova."
A telling photo was taken by the head-on camera at the finish of the 800m in Daegu, showing an anguished Ennis seemingly dwarfed by a giant, triumphant Chernova. Foreshortening exaggerated the difference in stature, but some observers chose to see rich symbolism in the image.
Minichiello, acutely aware of what makes Ennis tick, has been teasing her about it in training, standing behind her with arm aloft like the Russian, turning a painful memory into gentle joshing.
"You can only look at Ennis, and make Ennis better at being Ennis," he says. "If you start looking at Chernova, it won't work.
"If Jess breaks the British record, sets a PB in seven events but finishes third, there's nothing else you can do."
Has the disappointment of silver, after gold medals at European and world levels in the preceding two years, changed Ennis - her attitude, her confidence, her approach?
"I think about how close it was in Daegu, and not being consistent enough there, and that I don't want to experience that again," she says.
"I felt so frustrated afterwards. I messed up on little things, and missed the opportunity that was there for me. It was the first time it had happened to me at senior level, and I didn't enjoy the feeling.
"I had a nightmare in the javelin when I'd thrown 45 metres in my warm-up - if I'd only done that in the competition I would have been OK, and I was so close to doing it."
Minichiello says: "She's on it this year. She's really on it. Both of us are.
"There's a little more sense of 'Let's make sure every one of those 244 days has a positive outcome'. There's a resolute individual turning up for training - not that there wasn't before, but with Jess it was difficult when she was ahead.
"Having something or someone to aim for focuses the mind."
It is not just Chernova who has upped her game. Standards in heptathlon have progressed at a dizzying rate - the 6,584-point total that won Denise Lewis Olympic gold in Sydney 12 years ago would be unlikely to win even a bronze in London.
A PB from Ennis in August might also see her fall short. She believes that she will probably have to break Lewis's British record of 6,831 points to follow in her golden footsteps.
"I suppose some people want to think that Chernova winning gold at the Worlds has taken the pressure off me," says Ennis. "But for me it's put pressure on in a different way - 'can Jess do it again? Can she beat Chernova?'
"Sometimes the Olympics feel very close," she laughs. "But I won't start panicking until a month before."