London 2012: Martin Brockman's Olympic dream financed by inheritance
By Ben Croucher
BBC Radio Kent
Last updated on .From the section Athletics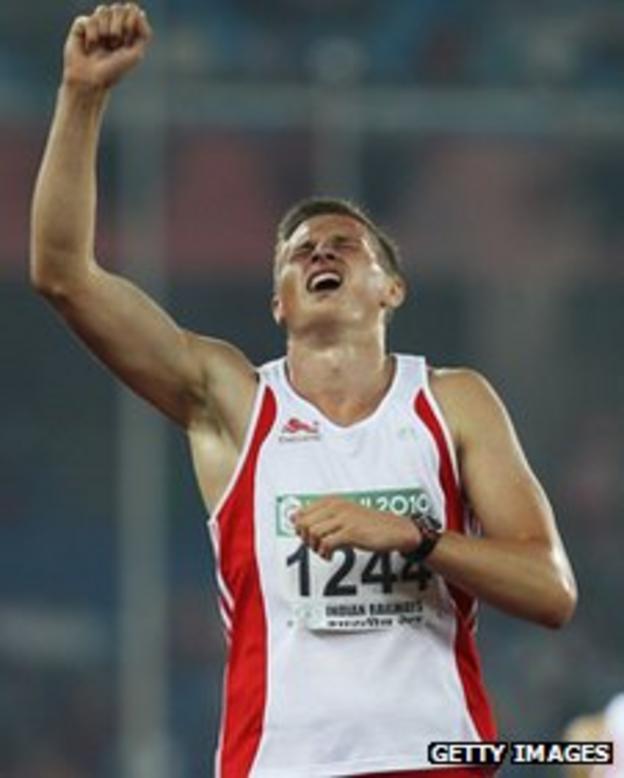 Kent decathlete Martin Brockman has revealed that he has spent a family inheritance to fund his Olympic dream.
Brockman has swapped Maidstone for Melbourne in order to train full-time throughout the winter.
"I've got the money my granddad left me when he died last year. I've spent that on the flight and it paid for me to stay here.
"That is all gone now but hopefully he won't mind me spending it on this," the 24-year-old told BBC Radio Kent
The money enables him to concentrate on his training schedule, rather than having to balance it with work and coaching commitments.
He said: "I don't have to work while I'm here. I train, I eat, I sleep and that's it.
"I'm getting the quality training I need as well as the quality rest i need. You can't work hard without that rest."
With less than nine months to go before the Olympic Games, Brockman has decided to train and compete outside down under, rather than take the indoor route in the UK.
The Commonwealth bronze medallist said it made a "huge difference", adding: "If I were in England right now, either I'd have to travel an hour and a half to go and use the indoor facilities or I just wouldn't be able to sprint or long jump.
"It's just too cold. The risk of pulling a muscle in that temperature is too high. Out here I can do everything I want.
"Last year, we had three months of bad weather. You can't do exactly what you want to do. You have to compromise a little bit."
Brockman is scheduled to compete twice while in Australia before returning to Kent in March.
It would appear that he has invested his grandfather's money wisely, with unlimited access to the facilities and equipment enabling the 24-year-old to break personal bests in training.
"There are little secret PB's in training. I'm looking in good shape. I've thrown a PB in the discus and nearing it in the Javelin.
"The discus has been going really well training. All of my throws have been around my PB or a little bit further," he said. "You've got indications already that it's looking good."
Brockman set a personal best of 7712 points in finishing third at the Commonwealth Games in India.
To achieve the Olympic 'A' standard, and virtually guarantee his selection for London, he must improve that to 8200 points.
To achieve the 'B' standard which could win him a place if no British decathlete achieves the 'A' standard, he must better his Delhi score by over 200 points.
This year, Brockman's personal best was 7488 points, placing him fourth in the British rankings, so a significant improvement is needed.
His first competition of the winter is at the beginning of January, which he intends to use to gauge the level of his performance.
Then days before flying back to England, he aims to achieve the European qualifying standard, if not the Olympic 'B' standard at another decathlon.
He said: "There are some events that are going well. At this time of year, things are always going to be a bit ragged with technique.
"I'm definitely strong enough and fast enough."