Chrissie Wellington - celebrate all sports and female role models
By Matt Slater
Sports news reporter
Last updated on .From the section Sport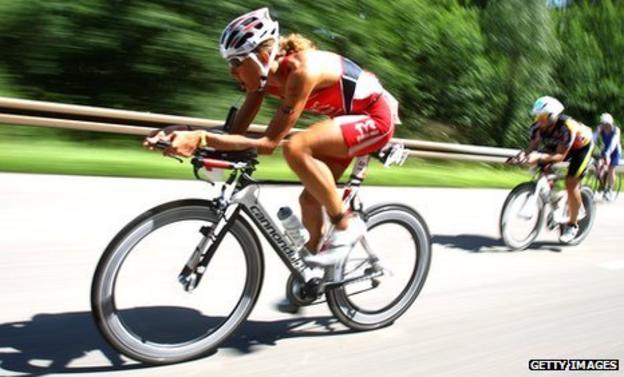 Ironman triathlon world champion Chrissie Wellington says athletes, sponsors, governing bodies and government itself must do more to promote minority and disability sports as well as female role models.
The Englishwoman, a four-time winner of the world title, was one of a number of leading female sports stars who failed to make the shortlist for this year's BBC Sports Personality of the Year awards, which takes place on BBC One on Thursday.
The list was chosen by sports editors from 27 UK newspapers and magazines but Wellington believes it is too simple to blame the media for the lack of female representatives.
"Britain is having lots of success in sports you haven't heard about," she said. "Let's celebrate that, let's get that out into the public domain.
"But the responsibility doesn't just lie with the media, it lies with the athletes to actively engage with the media, it lies with the governing bodies who must package their sports to make them attractive, it lies with sponsors to package their athletes and it lies with the government to promote a range of sports in schools."
The absence of women on this year's shortlist has been the subject of fierce debate ever since the 10 men in contention for the public vote were named last month.
Many critics have wondered what more the likes of Wellington, swimming's Rebecca Adlington and Keri-Anne Payne, and taekwondo's Sarah Stevenson - all of whom are world champions - have to do to get the credit their achievements deserve.
The 34-year-old Wellington won her fourth world championship in Hawaii in October and remains unbeaten over the brutal 140.6-mile event (2.4-mile swim, 112-mile bike ride, 26.2-mile run). She also holds every relevant record for the discipline and is usually only beaten by a handful of men in any race.
"I was a bit disappointed for myself when I heard the list but I was more disappointed, and incredibly surprised, that no women made the list," said the Suffolk-born phenomenon.
"I just don't think it accurately reflects the success that women, men in minority sports and para athletes have had this year.
"Somebody summed this up on Twitter when they said 'What's the problem here? Nobody has heard of these women.' And that is the problem, nobody has heard of us. That's what we need to change."
The Sports Personality controversy has also highlighted a more fundamental concern about the status of women's sport in society.
Earlier this month the government was forced to admit that a London 2012-related drive to increase the number of people playing sport was stalling, with the number of women taking part actually declining. This slide was particularly worrying among young women.
"Girls and boys, men and women, need active role models in an age when apathy and sedentary behaviour is taking hold," said Wellington.
"Statistics show there is a huge fall-off in sports participation for girls when they reach their late teens and get interested in other things and become preoccupied by body image issues.
"I was very similar to that but sport helped me deal with those problems, this is where role models are so important."
Much of the Sports Personality debate so far has focused on the massive disparity in coverage men's and women's sport gets in the mainstream media, with a recent study revealing only 2% of sports articles in newspapers are about women.
This feeds through into funding for sport - the latest numbers suggest women's sport receives just 0.5% of the total sponsorship pie.
Wellington, however, does see some benefit from the recent controversy, and not just for women's sport.
"I'm hearing a lot more about Sarah Stevenson now, which is great, but hopefully people are also starting to learn that we're extremely successful in open water swimming, squash, taekwondo and triathlon," she said.
"I think the sports pages will always be dominated by football, rugby and cricket but hopefully some women's rugby, football and cricket will creep in. As that happens more people will see those sports are exciting and challenging.
"I'm privileged to take part in a sport that is very egalitarian: we race on the same day as the men, on the same stage, for the same prize money and get the same publicity.
"That's why we are seeing a huge increase in women's participation in triathlon, the barriers that existed are being broken down."