London 2012: Pole vaulter Holly Bleasdale on the rise
By Marc Higginson
BBC Sport
Last updated on .From the section Athletics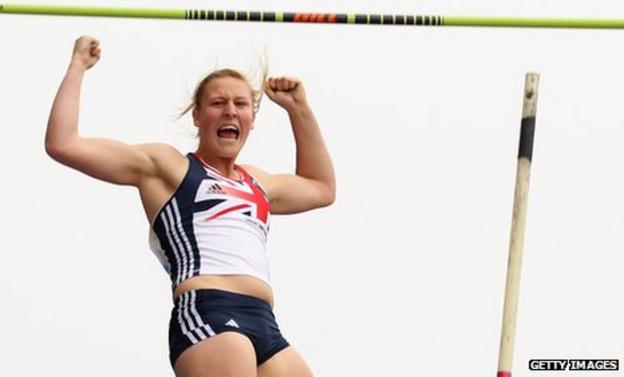 Pole vaulter Holly Bleasdale is in danger of losing the low profile she is hoping to carry with her into the Olympics.
The Lancashire-based 20-year-old might not have the profile of Jessica Ennis or Philips Idowu, but by the time the closing ceremony comes around on 12 August she could have spectacularly soared into the nation's consciousness.
Despite only trying the event for the first time four years ago after spells in gymnastics, hurdles and heptathlon, she is now among the world's top 10 pole vaulters and apparently only heading higher.
Such a trajectory suggests Bleasdale's is one star that can shine brightly in London, but she is happy the focus is on other more established athletes in the build-up.
"It will be good to go to the Olympics under the radar because I can go there and do well without any pressure," she said.
"There will be lots of home support and, being only 20 years old, I will have a lot to deal with anyway without the talk of medals in the press etc."
However, Bleasdale might find the spotlight moving in her direction if she maintains her current rate of improvement.
In the last 12 months alone, she soared past the British record with a jump of 4.70m - becoming the world record holder for her age in the process - before winning gold at the European Under-23 Championships in Ostrava.
Bleasdale then extended her British record by one centimetre at an indoor meeting in France in December, an achievement all the more impressive given she was competing off a 12-stride approach, as opposed to her usual 16 strides.
She was shortlisted as European athlete of the month in December and, having turned pro as recently as 2010, her progress suggests even bigger jumps to come.
"My winter training has been going really well," she said. "I have made lots of improvements. I have not done a proper winter's training before, but it has been worthwhile because my technique has improved and I have become stronger.
"I can lift more, meaning I can use heavier poles, meaning I can jump higher. It's going really well."
Bleasdale has sought the advice of a sports psychologist as she closes in on what must be the biggest event of any British athlete's career.
"I have been speaking to a psychologist and the main thing to come out of that is to concentrate solely on myself," she said. "I have been learning how to deal with different situations and scenarios.
"It means I can go to the Olympics prepared for anything because it is not just about the physical training."
The Manchester Metropolitan University student has already learned something about the potential pitfalls of major competition after she failed to register a height at last year's World Championships in Daegu, South Korea.
Bleasdale had three failures at what should have been a regulation height of 4.25m, and her disappointment was clear for all to see as she broke down in tears.
"I went to South Korea knowing I would not be in my best shape because I had peaked earlier in the year [in Ostrava], which was always the plan," she said.
"But I thought I could make the final. I learnt a lot from the experience because it was my first major championships.
"I didn't have to go out there, but I am glad I did because it proved to be a great experience for me, dealing with the pressure and all the things that happen at a major competition."
The next major date for Bleasdale is likely to be the World Indoor Championships in Istanbul in March, and success there will encourage further talk of her Olympic medal chances.
Bleasdale might then join the likes of Ennis and Idowu as those carrying a nation's hopes - and expectations - into London's Olympic stadium in August.