Irish runner Martin Fagan faces ban after admitting to EPO use
Last updated on .From the section Athletics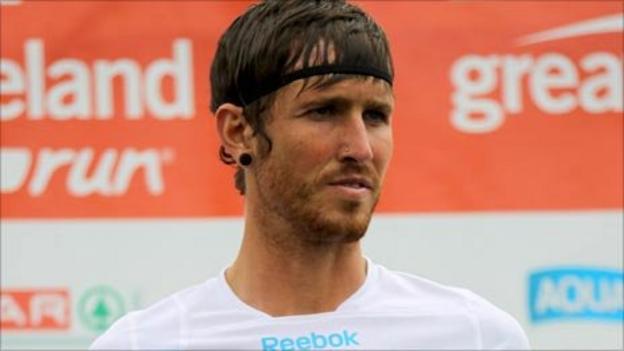 Irish distance runner Martin Fagan looks certain to be handed a two-year ban after admitting taking EPO.
Fagan will attend a doping hearing in Dublin on Tuesday after failing a drugs test on a sample taken in December.
The athlete said that a combination of depression, financial worries and injury had led to his decision to take the banned drug on one occasion.
"I remember, injecting it, thinking this is how the junkie feels," Fagan, 28, told the Irish Times.
"This is how low I've let myself go.
"That's when I realised I just shouldn't be in this position that it's telling me someting that I really do need help."
Fagan competed in the marathon at the 2008 Olympics and was aiming to qualify for this year's London Games.
The Mullingar athlete has been based in the USA in recent years and his use of EPO was discovered during an out-of-competition test in Arizona on 24 December.
Fagan said that the drugs test took place a day after the sole occasion that he had taken EPO after ordering the banned substance over the internet.
"I can handle the blame, what it's done to my career. But I hate what it's done to all the other people, my family, the other Irish athletes.
"It's all my doing, purely selfish. But when you're contemplating suicide you just don't think about all those other things."
Fagan dropped out in the final mile of the Chicago Marathon in October because of exhaustion after being well on course to achieve the London Olympic standard and the athlete said the blow "broke me".
"If I'd only got to the line, I could have run sub-2:12 and a London qualifier.
"Instead I got nothing out. No money. A DNF next to my name. And no one cared. The final nail in the coffin really."
Fagan said that his decision to stop taking his prescribed medication for depression after the Chicago race had further hastened his descent.
"I've made a terrible mistake. It's cost me my career. I know I never did drugs during a race but it's over now for me.
"I'm not bitter about it because I know it's my fault."
Fagan is now home in Ireland and will attend Tuesday's Athletics Ireland and Irish Sports Council hearing in Dublin where he will acknowledge his offence and, almost certainly, be handed a two-year doping ban.
"This positive test, the ban, is only the small issue.
"The bigger issue for me right now is getting myself mentally right again.
"I know that's going to take time but I know I'm around the right people now, my family and friends."