Nelson Evora out London 2012 triple jump with stress fracture
Last updated on .From the section Athletics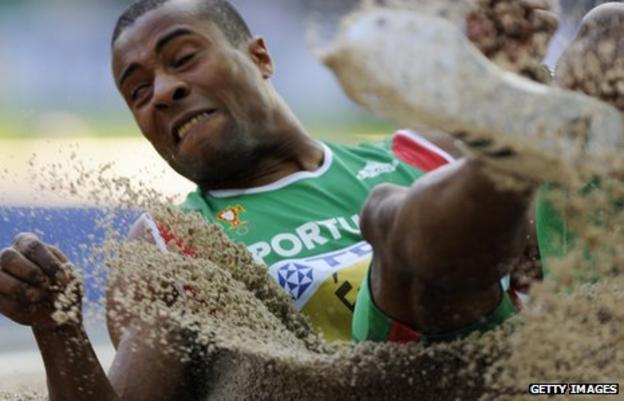 Reigning Olympic triple jump champion Nelson Evora will miss the London 2012 Games due to a recurrence of a stress fracture of his shinbone.
The 27-year-old Portuguese athlete suffered the injury while warming up for trials in Lisbon on Wednesday.
"Given the necessary recovery time, it is out of the question to take part in the next Olympic Games," he said.
But he insisted the injury was not serious enough to force his retirement from the sport.
"Don't anyone think this injury means that I'm finished. I have a lot of competitions ahead of me," he said.
"I feel mentally strong and now my priority is to heal myself to return."
Evora, who also won World Championship gold in 2007, had surgery on the same injury in 2010, ruling him out of competition for a year.
Britain's Phillips Idowu, who would have been one of Evora's chief rivals for gold in London, said on Twitter: "I wish him a speedy recovery."
Idowu, 2011 world silver medallist, continued: "Nelson Evora's injury is in no way good news for me. I want to compete and win against the best."