Louise Hazel's "12 for 2012" keep Olympic dreams alive
Last updated on .From the section Athletics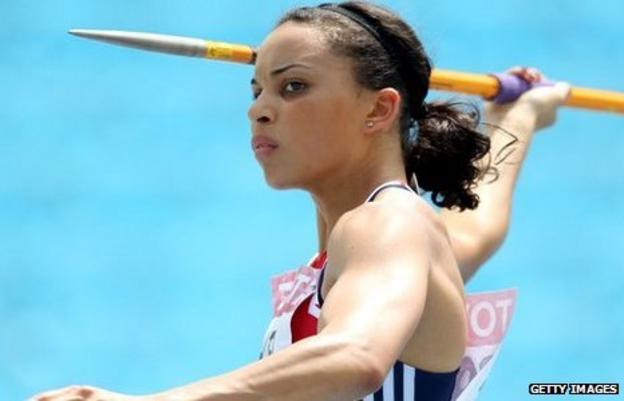 Great Britain heptathlete Louise Hazel is fully-focused on reaching the Olympics despite having her lottery funding cut.
Hazel, 26, has recruited a dozen local sponsors to enable her to train full time, calling them her "12 for 2012".
"I had to fight for my lottery funding again this year. I'm on a 'D' level, a low category," she told BBC WM.
"A lot of people my age tend to fall out of their sport, but I've put this in place so I can get to London 2012."
The Birchfield Harrier is one of only two British athletes to have registered the "A" standard in the heptathlon ahead of this summer's games, the other being gold medal hopeful, Jessica Ennis.
And after taking gold at the Commonwealth Games in 2010, Cambridgeshire-raised Hazel was determined to focus all her efforts on her athletics - which only became viable through the help of sponsors.
"In 2010 I was able to leave two part-time jobs - one at the University of Birmingham, the other at Selfridges in town - to focus on my dream of being a professional athlete.
"Now my time's taken up by training and by fulfilling my commercial obligations. Most athletes just get up in the morning, go to training, go home, play the X-Box, then return to training in the evening.
"They don't worry about the financial aspect of their sport. This helps with my living costs, rent, haircuts - it's as basic as that."
The money Hazel has raised also benefits some of the unsung heroes of British athletics - the coaches who give up their time for little recompense.
"This gives me the scope to have coaches come to me rather than travel as I do six or seven events. I wanted to have the ability to reimburse my coaches for their travelling expenses.
"A lot of our coaches are still unpaid so they do it out of love.
"I didn't think it was very fair to come and help me for an hour and not get anything back for it."
For now Hazel's main focus is arriving at the Olympics in peak condition, with her first appearance of the year set to be at the Birmingham Games at the National Indoor Arena on 4 February.