London Calling - The Olympic Fear
By Steve Houghton
BBC Sport
Last updated on .From the section Athletics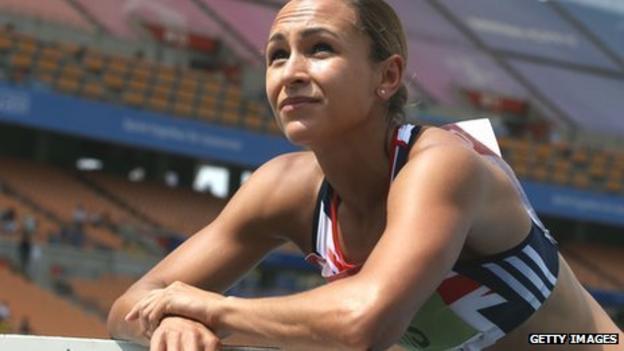 There are six months to go until the Olympic Games in London and many British athletes are on course to hit peak fitness at just the right time.
But the threat of injury is never far away, as heptathlete Jessica Ennis found out in 2008.
Tipped to win a medal in Beijing, she had to withdraw from the Games because of a stress fracture to her right ankle.
On Thursday, BBC Radio 5 live's London Calling will investigate how Olympians deal with the fear of injury and illness in the biggest year of their sporting lives.
Steve Cram struggled with injury in the build-up to both the 1984 and 1988 Olympics, winning silver in the 1,500m in Los Angeles and finishing fourth in Seoul four years later.
He admits it can be hard peaking at the right time.
"Unfortunately, three weeks after LA I was in good shape but that's not what the Olympics are about," he said.
"The harder you train the more injury prone you are. You can't not get injured if you're running 120 miles a week and at the intensity that you need if you're going to become the Olympic champion or break a world record.
"There's a fine line beyond which you get injured. The problem is you never know where that line is. You are trying to push that boundary as far as you can."
It is a tightrope that all athletes have to walk according to Katharine Merry, who won Olympic bronze in the 400m in Sydney, despite contracting a virus mid-season and suffering a dip in form.
"Athletes are lying if they say they don't feel any different in Olympic year," she said.
"You do worry more about your body but you can't wrap yourself up in cotton wool.
"The key is not to do anything differently in your training just because it is Olympic year. As an athlete you will have peaks during your season and you immediately think 'why can't the Olympics be tomorrow?'"
Dai Greene cites a period of injury and illness which actually helped him become world 400m hurdles champion last year. In July, he had a hip problem and was suffering with sickness ahead of the Diamond League meeting in Monaco.
Greene told BBC Sport: "I don't want my competitors to know I'm injured. Sometimes you can't race one 100% fit.
"I hadn't trained very well and was a bit of a mess. I ran and felt terrible but managed to pull out 48.4 seconds to finish third. That was the moment I thought 'do you know I'm in amazing shape because if I had a horrible week here and finished third against some of the top guys in the world, what happens when I'm fully fit?'
"I felt I was going to be unstoppable."