Mo Farah and Paula Radcliffe tap into Kenya's running success

By Mike Costello
BBC Radio 5 live
Last updated on .From the section Athletics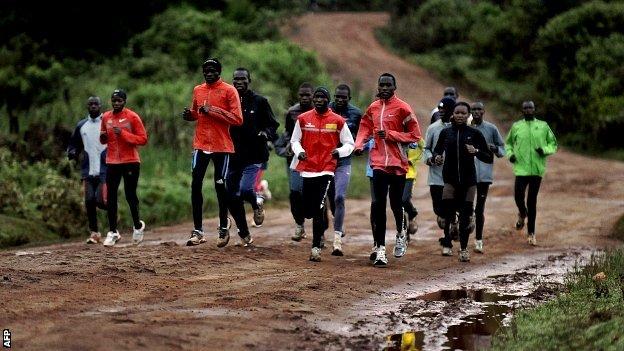 It's the story of a town, a school and a guru. All of them remarkable.
Iten sits on an escarpment in Kenya's Rift Valley Province and is home to 4,000 people. Running through it is a single tarmac road and hordes of elite athletes. There can be few places in the world where so much sporting talent is crammed into such a tiny area.
This winter, Mo Farah and Paula Radcliffe headed a group of British athletes training there, based at the High Altitude Training Centre owned and managed by one of Radcliffe's former rivals, Lornah Kiplagat, and Kiplagat's husband Peter Langerhorst.
And Brother Colm O'Connell is better placed than most to explain the reasons why Iten is home to such rich running talent. An Irish missionary, his athletics programme at St Patrick's High School has nurtured 25 world champions and four Olympic gold medallists.
"Running is an extension of their lives," he says. "It's not something that's imposed on them - they do it instinctively."
Iten (first known as Hill Ten) rests at an altitude of 8,000 feet and comprises a surprisingly lush landscape, cultivated by peasant farmers existing on a small-scale subsistence level. The many dusty trails are uneven, untreated and uncompromising. And along them champions are made.
Brother Colm refutes the widely held claim that success is the result of happy coincidence, that Kenyans have won the genetic and geographic lottery. "Any one factor you single out can be found elsewhere, be it genetics, history, motivation. Kenyans seem to be able to bring them all together in one area."
If altitude is the key, why are there no world-class distance runners in Bolivia? If poverty is the driving force, why no representation from countries such as India? And if genetics and geography are so significant, how come Ugandans from the same Rift Valley region have had much less to celebrate?
Brother Colm arrived from Ireland as a teacher in 1976. With no background, he somehow developed a "feel" and a "sixth sense" for the sport, helping to create a culture of excellence at St Patrick's and beyond. Eat, sleep and run - Iten offers little scope for anything else.
Radcliffe lauds Iten as one of the most beautiful and inspirational places to train. "The High Altitude Centre is perfect for being able to live that monastic training life. There's nothing to do other than focus on your training and that's what we want."
The British camp in Iten is marshalled by UK Athletics and the organisers of the London Marathon, and passionately endorsed by the UKA's head of endurance, Ian Stewart: "This is just a massive endurance enclave," he said. "You don't see any long jumpers here. It's motivational for all our athletes and that's a big reason why we come here."
Stewart speaks from a solid platform, underpinned with the certitude of a man who has been there and done it. In 1970 he beat the legendary Kip Keino, among others, to win 5,000m gold at the Commonwealth Games in Edinburgh. Keino had won the 1,500m at the Mexico Olympics two years earlier and would go on to bag the 3,000m steeplechase title at the 1972 Games in Munich.
Appointed by UKA in 2008, Stewart is striving to change the British athletes' mentality as well as their results. "There's more of a 'Yes we can' attitude now," he believes.
And in Iten, they are inspired to do it the hard way. The Kenyan way.