London 2012: Barbara Parker seeks psychological boost
Last updated on .From the section Athletics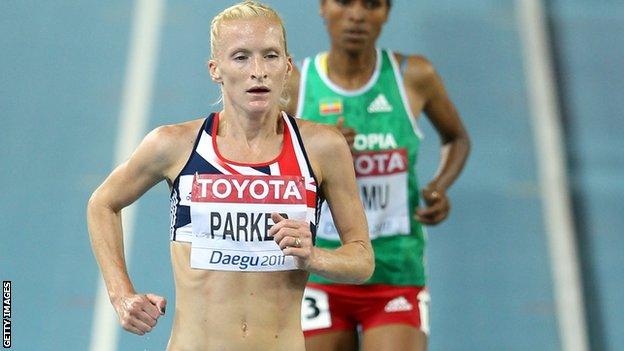 Barbara Parker hopes working with a sport psychologist will help improve her times in the 3,000 metre steeplechase for London 2012.
The 29-year-old from King's Lynn made the final of the event at the 2011 World Championships.
"I'm really happy with my progress, a couple of my workouts have indicated I'm well up on my fitness," she told BBC Radio Norfolk.
"I've also been working with a sport psychologist, that's really helping."
She added: "That's one thing I feel has held me back a little in the major competitions, and being able to push myself through races.
"I'm hoping that alone will bring my times down."
Parker will attempt to reach the Olympic standard for the 5,000m in time for the Games, and says the recent addition of an altitude tent at her training base in Atlanta, USA, will help her compete with the best.
"Most elite athletes will be either training at altitude or sleeping at altitude, and we were lucky enough to be given an altitude tent by another athlete here," she said.
"They are six or seven thousand dollars, so we wouldn't have one if someone wasn't so generous.
"So every night I sleep at 12,000 feet, it helps create red blood cells which carry oxygen, and everybody else in the world is doing it so it's great that I can do that now."
After a number of years studying and training in the USA, Parker says the build-up to London 2012 will give her a chance to spend time closer to home.
"I'll base myself in Norfolk throughout the summer, being in the countryside there's a lot of great places to run which is perfect," she said