Jessica Ennis content with solid display on home soil
Last updated on .From the section Athletics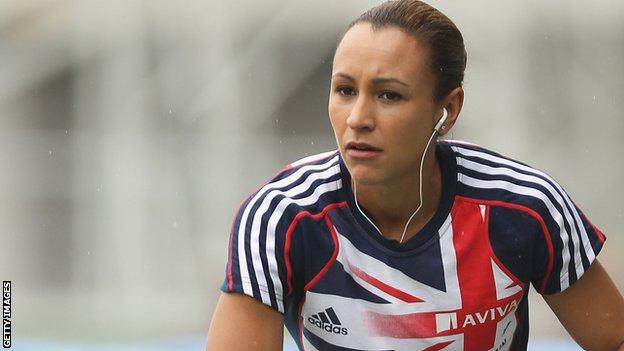 Jessica Ennis was satisfied with her performance on day one of the UK Trials and Championships as she builds up to the defence of her world indoor pentathlon title next month.
The 26-year-old started the day with hard-earned victory in the high jump.
She then threw 14.09m in the shot put, which placed her sixth, but still exceeded her target for the event.
"I'm really happy. It was my first high jump competition of the indoor season and it felt comfortable," Ennis said.
Competing on familiar territory at the two-day event held at the English Institute of Sport, where she trains in her home city of Sheffield, the former outdoor world heptathlon champion cleared her opening three heights at the first attempt, but needed two attempts to clear both 1.85m and 1.87m.
She took three attempts to clear 1.89m and found herself trailing Emma Perkins, who set a new personal best when she cleared the same height first time.
But Ennis then dug deep to clear 1.91m at the first attempt to seal victory - and equal her best jump of 2011.
Ennis added: "It's nice to start off jumping in the [one metre] 90s because that's what I need to do in the pentathlon or heptathlon, so it's promising for the rest of the year."
She also paid tribute to Perkins's performance, adding: "You always want to jump as high as you can for yourself, but when you have someone there in a real battle it makes you raise your game.
"It was a good competition because it puts you under pressure when you have to clear heights at the third attempt.
"You worry a bit [when you miss jumps early in the competition], because you don't want to go out at that height and I really wanted to jump in the 1.90s, but you have to get yourself together and re-focus."
Her 14.09m in the shot put was some way down on Ennis's personal best of 14.67m, but she was happy after setting herself the target of throwing more than 14m.
Ennis is due to compete in the 60m hurdles and long jump on Sunday, ahead of the Grand Prix at Birmingham's National Indoor Arena on 18 February, as she continues her Olympic build-up.
Veteran Yamile Aldama won the triple jump with 14.09m, and the 39-year-old continues to impress after reaching the World Championship final last year.
Margaret Adeoye won the 200m in 23.36 seconds, the fastest time in Europe this year, while Jonathan Mellor produced a storming finish to win the 3,000m title in a personal best of 7:58.36.