Jessica Ennis & Dwain Chambers win UK indoor sprint titles
Last updated on .From the section Athletics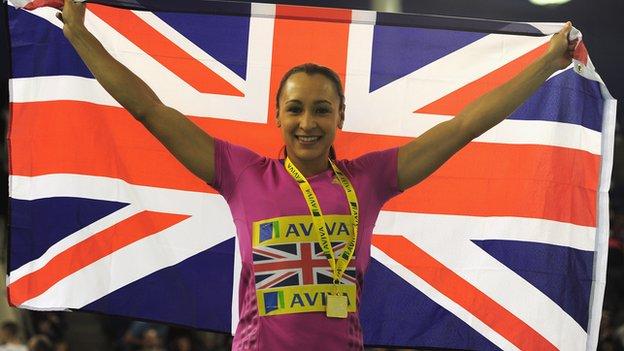 Jessica Ennis equalled a personal best to win the 60m hurdles at the indoor UK Trials and Championships in Sheffield.
The 26-year-old was quickest to the first hurdle and she went on to win in a stadium record 7.95 seconds.
"I'm really pleased," said Ennis. "It shows winter training has gone well and I'm looking forward to [March's World Indoor Championships in] Istanbul."
Holly Bleasdale took the pole vault title while Dwain Chambers recorded his fifth UK indoor victory in the 60m.
The 33-year-old was put under pressure by Andrew Robertson but the Belgrave Harrier won in 6.58, with Robertson's 6.61 just 0.01 seconds outside of the qualifying time for the world indoors.
"At my age, it is a privilege to be running that fast," said Chambers, who will find out soon after the World Indoor Championships, which run from 9-11 March, if he is eligible to run at the London 2012 Olympics.
The British Olympic Association is set to argue before the Court of Arbitration for Sport on 12 March that its own bylaw, which bans convicted drugs cheats from competing in the Olympic Games, does not violate the World Anti-Doping Association code.
Chambers, who was convicted of doping in 2003 and banned for two years, said: "That is in my mind but it's out of my hands. I can't do anything about that. I just need to concentrate on my athletics.
"I have to prepare and if the door opens at least I am prepared and I can compete to the best of my ability."
The sprinter, who lost an appeal over his ban in 2008, added: "The climate is a lot different because I am not taking the fight, which I am grateful for. I don't want to be in court."
Blackburn's Bleasdale, who has shot to prominence in the pole vault in recent months, won with her opening clearance of 4.52m at the English Institute of Sport, before going on to clear 4.70m at her second attempt.
"I'm really happy to be jumping consistently at 4.70m," said the 20-year-old.
"I'm training harder, lifting heavier weights, doing more sprinting and working on my technique. I love competing in big stadiums, I thrive off it."
Jeanette Kwakye left 18-year-old defending champion Jodie Williams in her wake to win the women's 60m sprint.
Hannah England, who won 1500m world championship silver in Daegu last year, took the 3,000m title in nine minutes, 06.04 seconds from Katrina Wootton.
The Oxford City athlete took control of the race with a little over one lap remaining before sprinting away from the field for the victory.
"That's my first senior indoor title," she said.
"I'm in really good shape but I'm not doing the world indoors as it's a bit late for me to then get ready for the Olympics."
Teenager Andy Pozzi eased to victory in the 60m hurdles in 7.62 seconds after the 19-year-old's biggest rival Lawrence Clarke was disqualified for a false start.
Marilyn Okoro led from start to finish to win the 800m in a season's best 2:04.01.
However she tired over the closing lap and her time was half a second slower than the time she needed to qualify for the World Indoor Championships in Istanbul in March.
Scotland's Claire Gibson ran a lifetime best as she stormed to victory in the 1500m in 4:17.39, beating second-placed Charlotte Arter by more than seven seconds.
In the men's middle-distance races, Welshman Joe Thomas also ran a personal best to win the 800m in 1:47.26, while Lewis Moses pipped James Brewer on the line in the 1500m to triumph in 3:45.59.
Nigel Levine retained his 400m title in a time of 46.28 seconds, with Michael Bingham second and Shana Cox won the women's equivalent in 52.38, beating Nadine Okyere and Nicola Sanders into second and third.
The full list of results is available on the UK Athletics website.