London 2012: Jessica Ennis in good shape for World Indoors - Steve Cram

By Steve Cram
BBC athletics commentator
Last updated on .From the section Athletics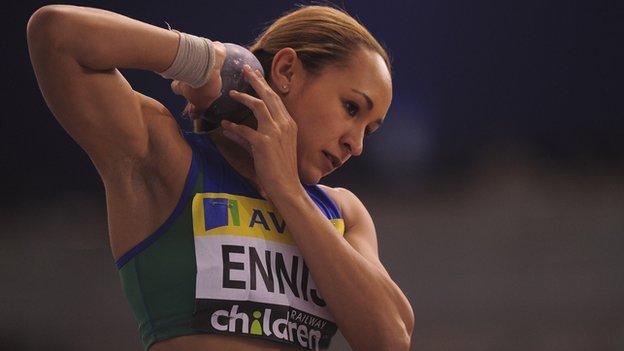 It was another busy weekend for British athletes.
I went to the Indoor UK Trials & Championships in Sheffield on Sunday. When I'm not working, it's nice to have a wander around and natter with the athletes.
Heptathlete Jessica Ennis was the stand-out performer. I had a chat with her and coach Toni Minichiello and they, and her whole camp, were upbeat about Jess's performance at the weekend as she prepares for the World Indoor Championships in Turkey next month.
We knew Jess was a world-class hurdler indoors and outdoors, and her win in the 60m hurdles was just six hundreths of a second off the year's world-leading time.
It's important for Jess to have confidence in that event and not worry about doing too much work on it so she can focus on others.
In the shot putt, Jess threw 14.09m, which in terms of world leading distances isn't very good, but for her that was a very good competition, and she was really, really pleased.
It might well be the shot putt that determines whether Jess wins the gold medal at London 2012 or not, so she's looking for consistency in the discipline.
I was also talking to Jess's camp about a Russian heptathlete who has popped up recently, 24-year-old Yekaterina Bolshova.
She became Russian pentathlon champion this month, setting five personal bests and posting a score more than 100 points higher than she's ever managed before.
She's made a massive improvement this year, particularly over events like the 800m, where she's knocked eight or nine seconds off her best time.
The rapid emergence of a new name like this is the sort of things you don't legislate for, but Jess is still on course for a really good championship in Istanbul and her camp will rightly be concentrating on her performances rather than Bolshova's.
Plus, we see - year on year - great Russian performances from athletes who fail to match that level at the Worlds or other major championships, so Jess's camp might take it with a pinch of salt anyway.
I think Jess is doing the long jump and 60m hurdles at the Grand Prix in Birmingham this weekend so is hoping to gain a little more confidence from those events.
She has a big competition in Gotzis in Austria at the end of May, which is pretty early really in comparison to many athletes who are still in winter mode and thinking summer is a long way off.
But Gotzis is nevertheless just three months away, and Jess will be competing outdoors in her last full hepthathlon outside of the Olympics. So everything she does at the moment is important.
When it comes to those World Indoors in Istanbul, I think the British women are going to do very well compared with the men. They are where our medal hopes lie.
For example Jess, pole-vaulter Holly Bleasdale and 1500m runner Hannah England - if she still plans to run in Istanbul - all have good medal prospects. And sprinter Jeanette Kwakye also looked pretty sharp during her 60m win at the weekend. If she finds another few hundredths of a second, as I would expect her to, then I don't think she'll be too far from a medal.
There's also Shana Cox in the 400m, although she might find American Sanya Richards-Ross, who recently ran her fastest 400m since 2008, tough to beat. Yamile Aldama, who won her first national title as a British citizen in the triple jump, is looking good too.
But on the men's side? I don't know. If Mo Farah decides to run, he'd be expected to run well.
But the person I was impressed with over the weekend, who didn't really get much coverage, was Welshman Joe Thomas, who ran a personal best of 1:47.26 in winning the 800m. The 24-year-old has now gone under 1:48.00 - the qualifying time for the World Indoors - four times this season and he looks in a different shape to how he's been thus far in his career.