Aviva Grand Prix: Jessica Ennis leads impressive GB display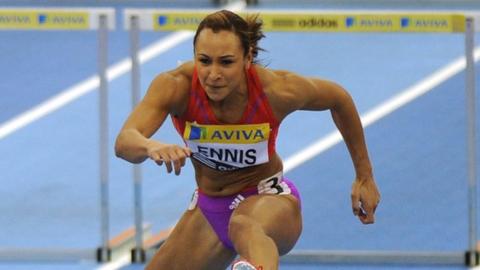 Jessica Ennis ran the fastest 60m hurdles in the world this year as British athletes impressed at the Aviva Grand Prix in Birmingham.
The heptathlete ran a personal best 7.87 seconds to beat hurdles specialist Danielle Carruthers into second.
Pole vaulter Holly Bleasdale, long jumpers Shara Procter and JJ Jegede, 400m runners Shana Cox and Nigel Levine and high jumper Robbie Grabarz all won.
But Mo Farah came second behind Eliud Kipchoge of Kenya in the two miles.
Kipchoge was too strong in the closing stages and finished in a personal best of 8:07.39, while 5,000m world champion Farah still broke the British and European record with his time of 8:08.07.
"I was a bit disappointed with the race," Farah told BBC Sport. "I felt a bit heavy."
That was in marked contrast to many of his fellow Britons, with the jumpers in particular impressing as both Proctor (6.80m) and Jegede (8.04m) set personal bests - Proctor breaking the British record.
Ennis also set a personal best with 6.47m in the long jump to set her up for next month's defence of her pentathlon title at the World Indoor Championships in Istanbul.
The Sheffield athlete's blistering run in the hurdles proved too good for American Carruthers, last year's world silver medallist in the 100m hurdles.
"I feel in really good shape and to come here and do two PBs is definitely where I need to be in a few weeks' time for the World Indoors," said Ennis.
"You never know how the next year's going to go, how you are going to build on it, if you are going to improve.
"At this stage in my career I don't expect to be making massive, massive improvements, so when you do do personal bests it gives you a lot of confidence and I have really built on last year."
Bleasdale gave another indication of her remarkable recent improvement by defeating Poland's Anna Rogowska on countback in the pole vault, with both women clearing 4.70m after the Briton had earlier failed her opening two efforts at 4.52m.
"I still feel like there's something lacking in my jumping," said Bleasdale. "My run-up was really good again today but I can't seem to translate that speed into my vault to get the big heights - but to jump 4.70, I'm really happy."
In the high jump, Grabarz was six centimetres clear of Slovakia's Michal Kableka with a winning leap of 2.32m, while fellow Briton Samson Oni took third with 2.23m.
Levine won the men's 400m in 45.71, although Costa Rican Nery Brenes had the victory within his grasp before falling in the final few metres which allowed the Briton to run past. Richard Buck earlier won a national 400m race in 45.88.
Hannah England declared herself "really pleased" with a season's best 4:09.79 in the 1500m, although the Briton was never in touch with Ethiopia's Genzebe Dibaba, who powered away to win in 4:01.33.
Asha Philip ran a personal best 7.19 in the 60m, and Joe Thomas did the same with 1:46.35 in the 800m.
Among the international stars on show, Asafa Powell had to settle for third (6.50) in the men's 60m behind fellow Jamaicans Nesta Carter (6.49) and Lerone Clarke (6.47).
And China's Liu Xiang dominated the 60m hurdles, clocking a national record 7.41 to finish ahead of Cuban rival Dayron Robles (7.50).
"I am especially happy to get a national as well as Asian record," said Xiang. "I still feel though that over the first two hurdles I didn't do very well and that there is work to be done there. I am excited about the rest of the year now."