London 2012: Steve Cram says Team GB is under pressure

By Steve Cram
BBC athletics commentator
Last updated on .From the section Olympics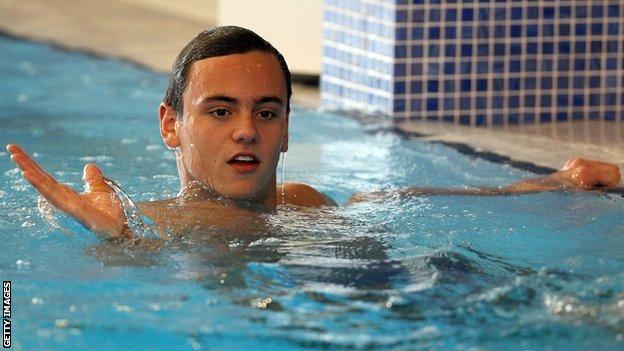 We have been talking a lot about Tom Daley and the .
It is indicative of the pressures that now exist for athletes and coaching staff going into a home Olympics.
I was at the diving test event and Tom and Peter Waterfield did not look great to me. Tom certainly looked out of sorts. If things are not going right, it can be quite difficult to turn things around. That pressure is obviously starting to come through as things are clearly not quite right there.
Usually, in an individual sport, the onus is on an individual to relieve that pressure. If things are going well and you are performing well, you see the evidence of that.
People are wondering whether Daley is training hard enough and spending enough time practising. But, even though it is an individual sport, as it is a home Olympics, the performance director is under pressure too. They are expected to deliver medals and so that person's job is on the line.
They are key to the teams doing well and delivering the targets that have been set. But I do not think it should have been done in public, even if what the performance director is saying is right. It looks like he wants to put his story out there to say: 'I've been trying to get this guy to train hard and I just can't do it.'
Daley is in demand from people who would not normally be that interested in diving. As he is training in Britain, and the Games are in Britain, as with many of the athletes I am sure the pressures on them are immense.
It certainly wouldn't have happened a few years back - a head coach coming out and saying, for example, Daley Thompson needs to get his act together, he's not training hard enough. It just would not have happened. So it is indicative of the pressure that is currently on both parties.
With athletics, Charles van Commenee is a good example of a performance director that has become quite high profile. There are others too, like Dave Brailsford in cycling and Jurgen Grobler in rowing. These guys have a persona and they are trying to influence the people around them - the technical coaches, the head coaches - to get the best out of the athlete. But I think it should always be done as privately as possible.
Van Commenee's job is to deal with the public expectation and say how many medals he thinks the team can deliver. But I don't think we would see him come out publicly to criticise an athlete. He would want to be giving as much support as possible, even if things aren't going quite so well. They have all had to tell UK Sport what their medal targets are, so there is pressure, but that is the world we live in. It is public funding so people have a right to know what we are aiming for and I do not think there is anything wrong with that.
was not about Phillips as an athlete or performance. It was about a process which Van Commenee felt should have been done better and differently. Idowu had decided not to compete and that Twitter issue was blown out of all proportion. It was a management issue. Obviously, Idowu was very annoyed, so involved the media. We're all living under a microscope now so tension can crop up.
We live in a world with managers and agents. Everyone thinks they want to maximise public and commercial attention because they are not sure if they are still going to be around in six months' time. It is difficult to get that balance right. You need to make sure you have got the right people around you who put your sporting interests first. That level of interest is enhanced so much because of the Games that some athletes are not quite sure how to play it.
The pressure will continue to build inevitably. I have had people coming up to me in the last few weeks asking about Suddenly everyone wants to get involved and throw in their two pennies' worth. A similar thing happened with Paula Radcliffe back in 2004 when things started to go wrong for her. Everybody had a solution. Everyone wanted to pile in with: "She should do this, she should do that". It happened to me in the latter part of my career. You are going to see, hear and read about it all over the place and that starts to affect people, so it is going to be a bumpy road for a lot of athletes.
Athletes have got to have strong people around them, people well grounded in what is going on and what your lifestyle is like and the demands of your sport.
They need to be in it for the long run with you. A lot of people have been signed up by agents and managers in the last couple of years who would never normally have agents. Somebody who is an outside medal chance suddenly has an agent, and those agents are trying to earn a living and push their athletes on to companies who may be interested for commercial opportunities. I have heard athletes say I can't believe I'm not getting more commercial activity, but that's not what they should be thinking about. It's because they see it around them.
It is part and parcel of a modern-day games and we are experiencing it even more so because it is at home. The people around you are really, really important - as important as getting the right physio or trainer. If you are going to get an agent or a manager, they have got to be part of the team, and get the balance right.