US sprinter Mike Rodgers accepts nine-month ban
Last updated on .From the section Athletics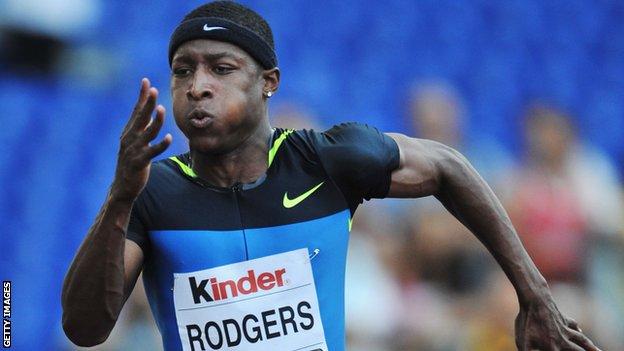 US sprinter Mike Rodgers has accepted a nine-month ban for a failed drugs test, but remains eligible to compete at the London 2012 Olympics.
Rodgers, who was the second-fastest American at the 100m in 2011, tested positive for a banned stimulant.
"I take full responsibility for my actions," said Rodgers.
Rodgers took methylhexaneamine, a stimulant commonly found in nutritional supplements and energy drinks.
That was discovered following the results of an in-competition urine test carried out in Italy on 19 July 2011.
It is believed that the US world indoor 60m silver medallist mistakenly consumed the stimulant while out socialising.
The US Anti-Doping Agency (USADA) stated that Rodgers gave a "inaccurate and misleading testimony" following a request by the athlete to have a hearing in front of the independent American Arbitration Association (AAA) panel.
Rodgers first claimed he consumed an energy drink when in a club with some friends in Italy, but then changed his story and admitted taking a supplement called Jack3d.
Subsequently, Rodgers agreed to accept his ban before the AAA panel took further action on the testimony.
The USADA state that the 26-year-old's nine-month ban commences from the day in which his urine sample was taken.
Rodgers will therefore have a period of 61 days from when his ban finishes to prepare for the US Olympic squad trials, which takes place on 22 June - 1 July at TrackTown USA in Oregon.
He is disqualified from any and all results obtained on and subsequent to 19 July 2011 - including forfeiture of medals, points, and prizes obtained.