London 2012: Robbie Grabarz makes Olympic 'sacrifice'
Last updated on .From the section Athletics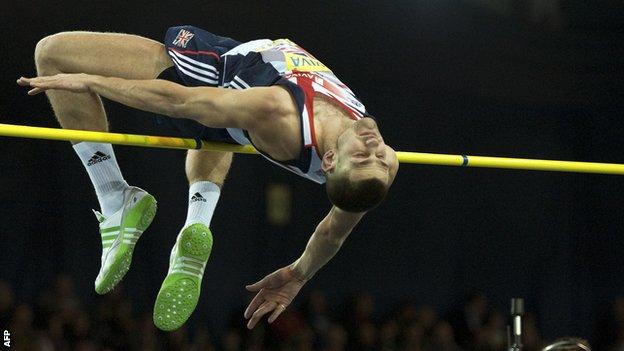 Robbie Grabarz believes his readiness to make 'any sacrifice possible' sparked his emergence as a front runner for a British Olympic high jump spot.
The 24-year-old lost his UK Athletics funding after a dismal 2011.
But a 'fresh start' has seen Grabarz re-emerge as the fourth-best in the world so far this year.
"You're prepared to make any sacrifice possible. I had a credit card I was happy to live off until the games," he told BBC Look East.
"After a disappointing 2011 I realised I didn't want that disappointment to happen again and I realised it was my decision to make it not happen again.
"So I moved to Birmingham for training purposes to make a fresh start so I could give 100% of what I have to offer.
"Losing my funding didn't inspire me in the slightest because I saw it coming. I knew I was more capable than what I had achieved.
"I always believe I can achieve it. It doesn't matter if nobody else believed in me along the way.
"My family, friends and coach got me through some difficult times. And maybe a credit card when I needed some money."
Grabarz, from St Neots, had never jumped higher than 2.28m until this January, when he cleared 2.34m at an indoor meeting in Germany.
That leap put him 3cm clear of both the Olympic 'A' qualifying standard and countryman Samson Oni's best effort of the year, making him not only a favourite to earn GB selection, but a genuine medal contender in London 2012.
"That's what I've got to focus on, while not applying any additional pressure," he said of the prospect of a top-three finish at the Olympics.
"I know what I'm doing is working. I've just got to keep doing more of the same and change little bits here and there to improve on what I've already done."