Liz McColgan praises strong female presence in Scottish athletics
Last updated on .From the section Athletics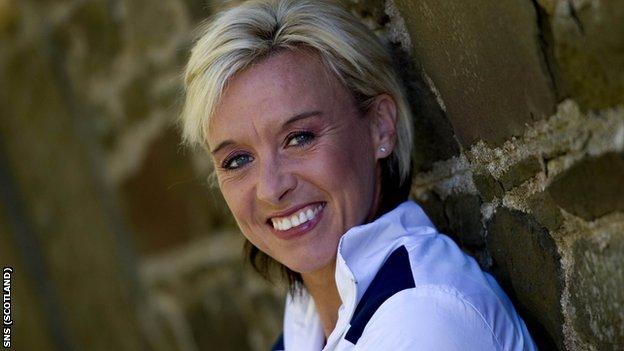 Former World champion Liz McColgan believes greater equality has led to half-a-dozen women becoming the best-known names in athletics in Scotland.
The likes of Lee McConnell, Eilidh Child, Eilish McColgan, Lynsey Sharp and Steph Twell are among Scotland's best hopes at London 2012.
Meanwhile Scotsmen are likely to be in short supply in the Great Britain team.
"There is equality in the sport now and that is a major difference," McColgan told BBC Sport Nation.
"When myself and Yvonne Murray were running 20 years ago it was not like that.
"When I started out, women were not allowed to run more than 3000 metres. Now everyone is doing 10ks and marathons. And that has happened in a period of around 20 years.
"So, I really do feel that what has changed is the equality of the sport itself which has made it more accessible for women and given them a platform to be successful."
The March edition of Sport Nation features interviews with both McColgans, Sharp and McConnell, as well as Scottish Athletics' chief executive Nigel Holl, who concedes that, for the moment, women are in the ascendency in the sport.
"Some of our biggest names are female at the moment. They deserve credit for that," he said.
"They are right up there in Scottish rankings and British rankings and hopefully at some point in world rankings.
"The likes of Eilish and Lynsey are young athletes. There is a lot of scope for them to develop. But it is not exactly bad news on the male front."
Sport Nation is on BBC 2 Scotland at 7pm on March 6 2012.