Van Commenee defends handing GB captaincy to US-born Porter
Last updated on .From the section Athletics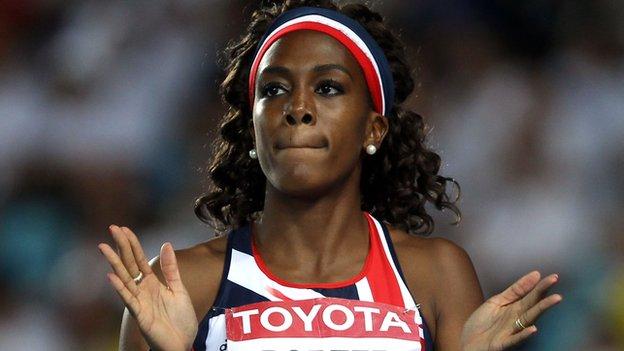 UK Athletics head coach Charles van Commenee has defended naming Tiffany Porter as British team captain for the World Indoor Championships.
US-born hurdler Porter has a London-born mother and British passport.
She was asked by one reporter if she knew the first few lines of 'God Save the Queen' but chose not to sing it.
Van Commenee said: "I choose the team captain for leadership skills, athletics skills and credibility, not memorising words or her vocal skills."
Porter, who was born and raised in Michigan, said: "I do know the first lines, I know the whole of God Save the Queen. I'm not known for my singing ability. I don't think that's necessary."
The 24-year-old, who has been dubbed 'a Plastic Brit' by critics, later added: "It's a huge honour and I'm very very excited about it. When Charles approached me it was a very easy 'yes'."
Van Commenee usually sets targets ahead of major competitions, but has chosen not to for the World Indoor Championships in Istanbul.
The Dutchman explained: "The world championships is always an event we take seriously, although not many athletes in the world will peak specifically for this as the most important event of the year is obviously the Olympic Games."
Jenny Meadows is absent through injury, but Jessica Ennis and Dwain Chambers will be out to defend their titles, while world 5,000m champion Mo Farah competes over 3,000m. Holly Bleasdale faces world record holder Yelena Isinbayeva in the pole vault.
Farah said: "We have to use this as an opportunity to race against other people but we are in 2012 and it's all about the Olympics."
Ennis will be up against Russia's Tatyana Chernova, the woman who took her world outdoor title in Daegu last summer. Two years ago Ennis was just 54 points shy of Irina Belova's world record of 4,991, and she admits it would be a "nice bonus" to set a new record.
"I got quite close to it last time in Doha and it was something I had not really thought of before," Ennis said.