GB runner James Forman sets 2016 Olympic target
Last updated on .From the section Athletics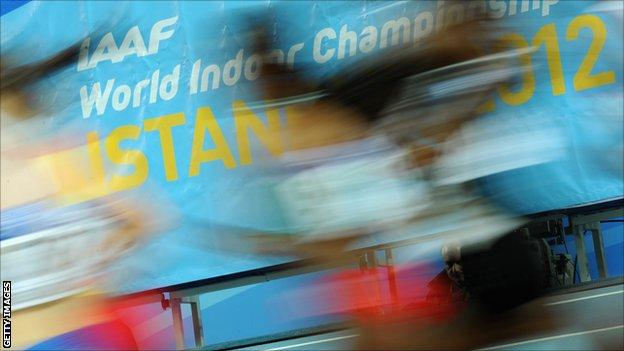 Isle of Wight 400m runner James Forman is targeting the 2016 Olympics after being selected for this weekend's World Indoor Athletics Championships.
Forman, 20, has been picked as part of the 4x400m relay team and believes the experience will be invaluable.
"I'm aiming for the 2016 Olympics, it's more realistic [than London 2012]," Forman told BBC Solent.
"I feel I can run the 2012 qualifying time but I cannot really control what the other three people are doing."
Forman continued: "Dai Greene, Jack Green and Nathan Woodard have already run the times so they are in contention for it."
Forman is picked alongside Nigel Levine (Windsor Slough Eton & Hounslow), Richard Buck (City of York), Conrad Williams (Kent), Michael Bingham (Birchfield) and Luke Lennon Ford (Birchfield) in the relay team, although he admits his first love is 400m hurdling.
The Isle of Wight runner is certain his future lies in the hurdling.
"I am a 400m hurdler and wasn't going to run this indoor season but we decided to have a bit of fun, did some time trials and saw that I was running really well on the flat," he added. "Selection was overwhelming.
"I'm not tall, I'm five foot nine so I am quite compact and that works really well for me indoors.
"But hurdles is my first love and where my future lies. I'm better over the hurdles.
"The Olympic qualifying time is 49.5 seconds and I really think that is realistic. We've just got to keep training hard and hopefully the times will come.
"But I would definitely be willing to settle for the European Championships which are the same year as the 2012 Olympics. If I could get a slot there, that would be fantastic."
Forman's selection marks a memorable few weeks for the Isle of Wight with his Carisbrooke High School friend - Hampshire cricketer Danny Briggs - also making his England one-day debut last month.
"It's nice that the island is getting the coverage it deserves because we've got a good set up down here," he said.