London 2012: Hugh Robertson advises GB athletes to know national anthem
Last updated on .From the section Athletics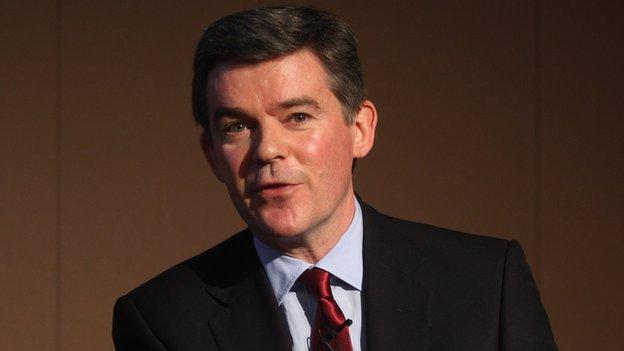 Olympics minister Hugh Robertson has advised every Team GB athlete at London 2012 to know the national anthem.
American-born GB hurdler Tiffany Porter was asked to say the words of 'God Save The Queen' by a journalist but did not.
Robertson said: "If you are going to represent Britain at the Olympics then I think it is sensible to know the words of the national anthem."
He added: "I would say that would be even more necessary if you think you are going to win a medal."
Porter is the Team GB captain at the World Indoor Championships, which are currently being held in Istanbul.
The hurdler, who has dual nationality via her British mother, insisted she did know the first lines to the anthem - with 5,000m runner Mo Farah calling the Daily Mail's question "unacceptable".
UK Athletics has "withdrawn team access" from the Daily Mail, who asked the question to Porter.
Robertson, meanwhile, insists there should be no fast-tracking of foreign-born athletes into Team GB simply because they might win medals.
He said: "I am pretty clear on this issue - anyone who wants to compete for Great Britain must hold a British passport or go through the full naturalisation process.
"What I am against is giving special treatment to people simply to allow them to compete for this country."
Robertson said there were many examples in the history of British sport of people who had moved from other countries but embraced the new team.
"Cricket is a classic case," he added. "Allan Lamb came from South Africa to play for England but I would argue now that he is British rather than South African.
"I would also regard Kevin Pietersen as a bona fide Brit."
Porter's position has been staunchly defended by European indoor 3,000m champion Helen Clitheroe, who captained the British athletics team in Paris last year.
"She's an absolutely brilliant team captain, she gave a brilliant team speech last night [Thursday] and inspired us all," Clitheroe said.
"I'm pretty sure if you asked the majority of the team, they wouldn't know the words to the national anthem. I do - but it's not a requirement to be our team captain.
"It's about someone who you can look up to, follow and inspire us, and Tiffany is that person.
"She told us to take a minute and think about why we love the sport before we go out there, why we do it, and for that to inspire us before our race. It was a really good speech. The national anthem question is irrelevant."