Jessica Ennis hopes to learn from pentathlon silver at World Indoors
Last updated on .From the section Athletics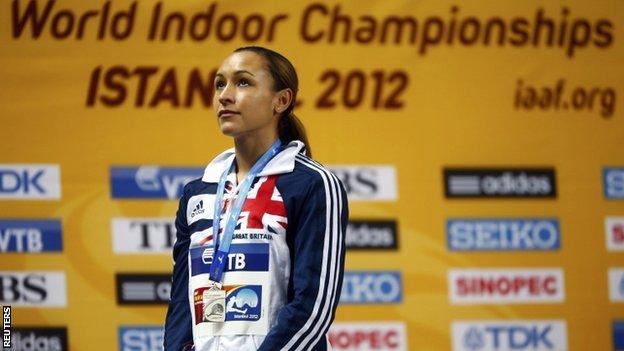 Jessica Ennis says she must learn from her mistakes in time for the Olympics after taking a second successive silver at a world championships.
The Briton in the pentathlon at the World Indoor Championships in Istanbul.
It follows heptathlon silver for Ennis behind Tatyana Chernova at last year's outdoor World Championships in Daegu.
She said: "I need to make sure I learn from these experiences, get it right and turn silver into gold this summer."
The 26-year-old added: "I am happy because two silver medals at world champs is great, but I would have loved to have won a gold medal.
"There's disappointment because I wanted to come here and retain my title, but I had some good performances today.
"I believe things happen for a reason and hopefully that reason is going to become clear later on in the year."
Ennis put in some strong performances in Istanbul, including a brilliant 60m hurdles time of 7.91 seconds, but was let down by a disappointing long jump, managing a best of just 6.19m that left her seventh in that event.
"I think I was just reaching for the board. I need to go back and have a look at it," she said.
"That's the nature of pentathlon and heptathlon. You have good events; you have bad events. It doesn't always come together and that's the key - getting everything to come together on those two days or that one day."
Russia's Chernova was expected to rival Ennis for gold but it was Olympic heptathlon champion Dobrynska who proved the strongest - she broke the indoor world record - with Lithuanian Austra Skujyte also impressing for a surprise bronze.
Ennis said: "[There are] some things I need to go away and work on, but for a world record to win it obviously shows the standard is extremely high.
"I've learned loads from this competition; I learned loads from Daegu. I'm definitely in better shape now. I'm stronger, I'm doing personal bests, but there are still things to work on, still things to improve so I can still hopefully get more points.
"I am not at my limit and obviously there is still room to improve. I am happy and I am progressing.
"I am going to have a week off and get back into another solid block of training and make those changes and prepare for the summer, and hopefully I will be stronger then."