World Indoors: Britain's Yamile Aldama wins triple jump gold
Last updated on .From the section Athletics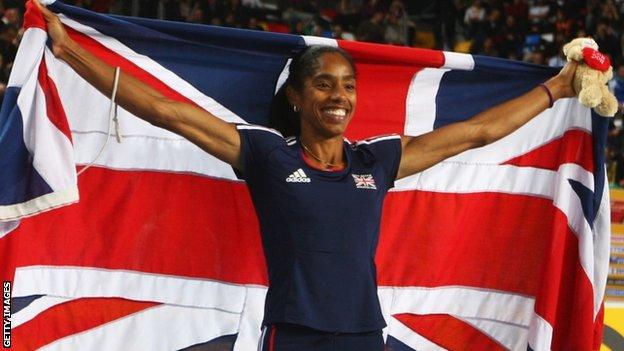 Britain's Yamile Aldama won gold at the age of 39 with a stunning performance in the triple jump at the World Indoor Championships in Istanbul.
Aldama got everything right on her second jump to set a season's best of 14.82m and that was never threatened.
GB captain Tiffany Porter won silver in the 60m hurdles behind the dominant Sally Pearson of Australia.
Defending champion Dwain Chambers took bronze in the 60m, with American Justin Gatlin winning gold in 6.46 seconds.
"It's a great honour to be on the podium and be able to represent your country," said Chambers. "I would have liked to have won but it went to the better man."
Chambers is currently unable to compete at any Olympic Games having served a ban for doping offences, could yet see him able to run in London this summer.
"There's a lot of things going on and it's making it very difficult for me to concentrate but I'm just glad to have come here," said Chambers.
"If the opportunity arises [to run in the Olympics] it would be the most fantastic thing in the world, but I have to remain grounded and continue to be an athlete during that time."
Aldama, who was born in Havana and represented both Cuba and Sudan before gaining British citizenship two years ago, was thrilled after her surprise win.
Despite injuring herself on her third attempt, the closest anyone could get to Aldama was 14.63m, which earned Olga Rypakova of Kazakhstan the silver.
"It's a very proud moment," she told BBC Radio 5 live. "I was hurting a little bit but I was ready to die for it if I had to."
She added: "I'm feeling great. The whole team has been very supportive, my family at home, everyone. I'm not thinking about the Olympics just yet. Now I'm going to have a little break, a celebration with the family and then start all over again. I feel so, so happy."
And asked later by reporters about the nationality issue, Aldama said: "Of course I feel British. I have been in the country for 11 years. What more could you ask? I do everything I have to as a British citizen, my kids are British, 60% of my friends are British. Britain is home."
American-born Porter, who has dual nationality via her British mother, when named team captain earlier in the week.
"I feel really good," she said after holding off Alina Talay of Belarus to claim silver in the 60m hurdles. "I'm happy I was able to come out here and execute my race and bring home a medal.
"I was able to follow my own advice, the advice I gave to the British team in my speech. For me the main focus was to come out here and compete with pride. That's what I was able to do so I'm happy."
Shana Cox set a personal best of 52.13 seconds in the 400m final but that was only good enough for fifth, with American Sanya Richards-Ross storming to victory in 50.79s.
"I felt really, really good," said Cox. "I'm happy with it, I got a PB out of it, you can't ask for anything else. I know I have a lot more in me so I'm looking forward to the future."
Shara Proctor earlier broke her own British record on the way to reaching Sunday's long jump final, recording a leap of 6.86m in the second round to beat her previous mark by six centimetres.
Proctor reached the world outdoor final with her native Anguilla in 2009 before switching to represent Britain in November 2010.
She has UK citizenship as Anguilla is a British overseas territory, and said: "Thank God I've qualified, that's a weight lifted off my shoulders. I didn't expect to jump that far, I just expected to jump far enough to get into the final.
"Now I just have to go out there and jump. Ideally, I'd like to get a medal, jump a national record. You've got to reach for the stars."
Andrew Osagie qualified for the 800m final by finishing second in his semi-final, but Joe Thomas missed out. Robbie Grabarz cleared 2.29m to reach the high jump final, but it proved too much for team-mate Samson Oni.
Britain's men's 4x400m relay team - Conrad Williams, Luke Lennon-Ford, Michael Bingham and Richard Buck - were the fastest qualifiers for their final, 0.02 seconds ahead of their United States rivals.
Teenager Andy Pozzi won his 60m hurdles heat, while also progressing to the semi-finals were Asha Philip and Jodie Williams in the women's 60m, and Steve Lewis finished fifth in the pole vault with 5.70m.