London 2012: BOA 'cautiously optimistic' after drugs ban hearing
Last updated on .From the section Athletics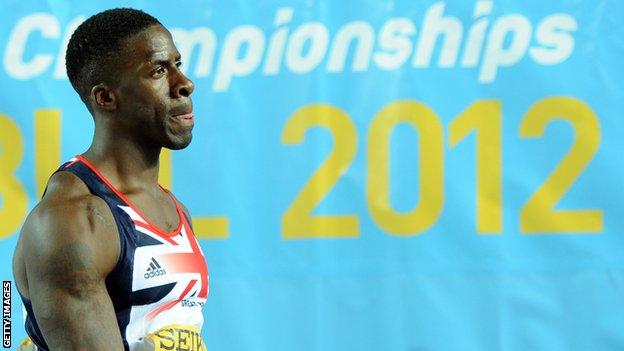 The British Olympic Association is "cautiously optimistic" after a hearing on Monday to decide if its lifetime bans for drug cheats breach the world anti-doping code.
The Court of Arbitration for Sport (Cas) heard arguments from the BOA and the World Anti-Doping Administration (Wada), which opposes lifetime bans.
If the BOA's bans are lifted, sprinter Dwain Chambers is among those affected who could compete at London 2012.
A verdict may not emerge for a month.
Following Monday's hearing, BOA chairman Lord Moynihan told reporters: "It was a good day, all the arguments were put really strongly. The voice of the athletes was definitely heard and we now wait and see.
"One of the questions we put is to try and get a resolution as soon as possible. My expectation is a month, we don't want it any longer as it is in the interests of the athletes that they know what the outcome will be.
"Today was an outstandingly good presentation, the voice of the athletes came over strong and loud so I'm cautiously optimistic."
Chambers, 33, and 35-year-old cyclist David Millar have been prominent examples of reformed drugs cheats still active in their sports whose Olympic hopes are affected by the decision Cas is set to reach.
"I have no idea what the outcome will be and that does make it difficult. It does bother me," said Chambers, who won bronze in the 60m in the world indoors championships in Turkey on Saturday. He was banned for two years in 2003 after being found guilty of taking anabolic steroid THG.
The World Anti-Doping Agency believes Chambers and athletes in similar situations should be free to compete once their suspensions are served.
The BOA's argument, which has found support among a number of high-profile current British athletes, says its requirement that athletes have clean drugs records is part of its selection criteria for any Olympic Games, meaning the lifetime ban is not an additional punishment.
However, Lord Moynihan has insisted Chambers and others for the London 2012 team if Cas rules against the BOA.
"If it goes our way, it would be fantastic. But I can't get too happy because I still have to qualify," said Chambers.
"Even though I'd become eligible, I'd still have to qualify. These youngsters are getting faster and I'm getting older, so it's becoming that much harder."
Chambers has received support from American sprinter Justin Gatlin, who beat him to gold in Istanbul.
Former 100m Olympic champion Gatlin, who was banned for four years after testing for testosterone in April 2006, is free to compete in London 2012 as the United States team is open to athletes who have served drugs bans.
"He's one of the best runners in British history," said Gatlin.
"He came back after all his trials and tribulations and established himself as one of the best runners for the UK team.
"I think he has proven himself as a God-given talent and a good runner and to have him on that line in the Olympics would be a great show."