London 2012: Andrew Osagie eyes progress on World Indoor bronze
Last updated on .From the section Athletics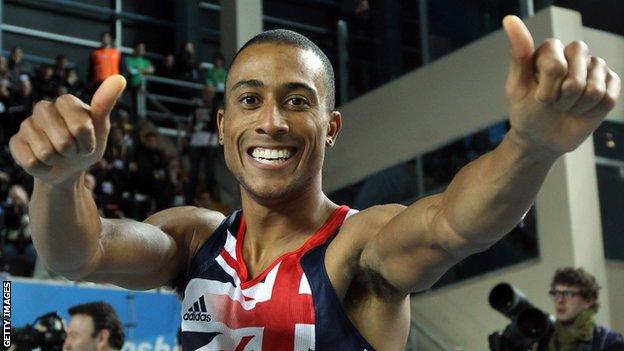 Britain's Andrew Osagie has hailed his as "unbelievable" - but has vowed to improve before London 2012.
The 24-year-old's previous best international performance was fourth place at last year's European Indoors.
And now he hopes to use his performance in Istanbul to build for the summer.
"Bronze is one of the best medals to get for the first time because it gives you so much scope for improvement," the Harlow runner told BBC Radio 5Live.
"I've got so many things to do mentally and physically in training just to make those little increment improvements that are going to get me into finals and get me Olympic medals, which is what we're aiming for.
"To get into the final is a big step for me and to win a medal is almost unbelievable."
Osagie, whose career has been hindered by recurring injuries, posted a time more than three seconds shy of his personal best - a 1:45.36 on the outdoor track at Crystal Palace last August - but now has an international bronze to go alongside his 2011 UK title.
His medal was one of nine that contributed towards Team GB's highest ever World Indoors tally, an achievement he says has put the nation's athletes in a buoyant frame of mind.
"We've got a record medal haul. More than we've ever won before," he said.
"There's such a positive mood and atmosphere in the group. We're really focused on representing the country really well in the summer."