Yamile Aldama allowed to compete for Britain at London 2012
Last updated on .From the section Athletics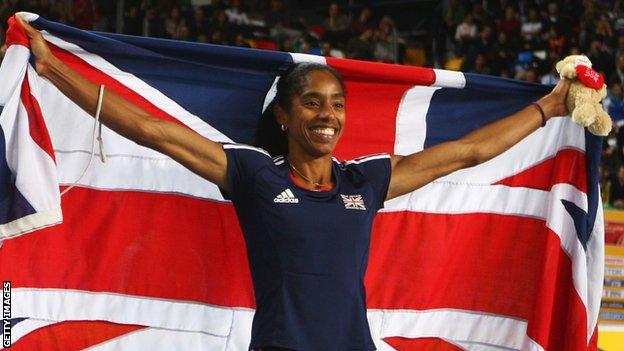 Word indoor triple jump champion Yamile Aldama has had her nationality change approved, clearing the way to compete for Britain at the London Olympics.
Cuban-born Aldama, 39, competed for Sudan at the 2004 Olympics.
She became the second-oldest world champion in history when she won a surprise gold for Britain at the World Indoor Athletics Championships.
Cycling hopeful Philip Hindes, who was born in Germany to a British father, also had a nationality change approved.
Aldama received British citizenship two years ago but the International Olympics Committee agreed to reduce the normal three-year waiting period.
An International Olympic Committee statement said: "In both cases the Executive Board agreed to the request to reduce the three-year waiting period outlined in the Olympic Charter as the requirements for such reduction or cancellation had been met."
Aldama originally applied for a British passport more than a decade ago after meeting and marrying Andrew Dodds, a Scot studying Spanish in Havana, and moving to London.
She missed the 2003 World Championships while ranked world number one because she had no country to compete for, which is when she decided to compete for Sudan.