Coaching legend fears for Scottish athletics

By Rhona McLeod
BBC Scotland
Last updated on .From the section Athletics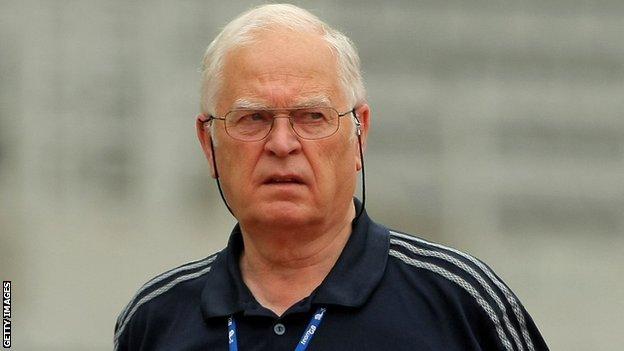 In less than four months, the Olympic Games in London will be in full, magnificent flow.
10,500 athletes from over 200 nations competing in 26 sports; and, as usual, one of the biggest draws will be athletics, the blue ribbon event of the Games.
But what are the chances of a Scot stepping on to the athletics victory podium?
The chances are not high, in truth; in fact making a final will be an outstanding achievement for any Scot who is talented enough just to earn a place in Team GB.
At the University of Bath, 74-year-old Malcolm Arnold is coaching an elite squad which boasts the Welsh world champion Dai Greene, Olympic bronze medallist Tasha Danvers from England, and now Scotland's Commonwealth Games silver medallist Eilidh Child.
Arnold is a legend, having coached athletes to more than 65 major medals over a 44-year coaching career.
He has attended every Olympic Games since Mexico City in 1968, 11 in all, as a coach to national teams.
London 2012 will be his 12th Olympic Games, but he has concerns that Scottish athletes are now conspicuous by their absence on the world stage.
"I've been a very keen observer of Scottish Athletics over the years," he told BBC Sport Nation.
"It's a constant thought among people; what has happened to Scottish Athletics? What has happened to Scottish athletes?
"There's been a fair amount of turmoil amongst the leaders in the sport over the past two or three years which is not good for the participants."
Arnold is referring to the departure in January 2011 of national head coach Laurier Primeau.
This was followed eight months later by the acting national head coach Steve Rippon also leaving the role.
Most recently, in February, the chairman of Scottish Athletics Frank Dick stepped down from his post - his departure coincided with the unveiling of a 39-strong GB team for the World Indoor Championships without a single Scot.
This disruption concerns Arnold.
"Athletes and coaches need someone to trust in and there doesn't seem to be too much trust there at the moment," he added.
"For me, it's really important that the athletes are thought of as the most important people in the sport.
"Possibly, if the whole situation could settle down and more permanent personnel could give a solid basis, perhaps the young people would become more important again than the leaders of the sport.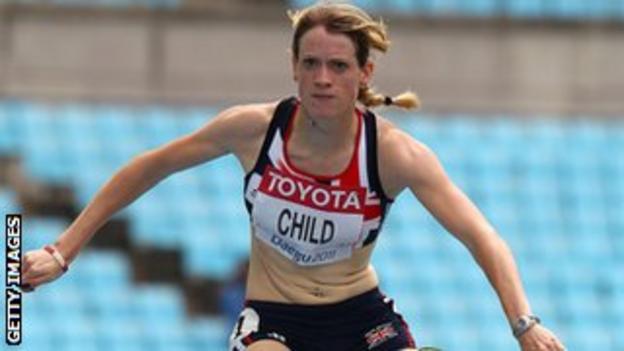 "Eilidh has come down here because it appears there are no coaches of hurdling in Scotland at her level, and that's really sad.
"So, you need good coaches as well, so the whole system needs to settle down to some really hard work."
But is hard work and an abundance of technically qualified coaches enough?
In past interviews with Scottish Athletics staff, it has also been suggested that success comes in cycles, and this, simply, is not Scotland's time.
"I think that sort of argument, that things happen in cycles, is a cop-out really," says Arnold.
"There just has to be more respect for the coaches and the athletes and the work that they do.
"In British sport there is far too much bureaucracy.
"Sport is a practical thing, it's something you do out here on the track, not in an office.
"There needs to be a good settled organisation in Scotland for things to march ahead and that's the key.
"They need a significant lift at the moment as I see it."
Athletes Eilidh Child and Steph Twell can be seen on Sport Nation: Scottish Olympic Dreams. Tuesday, 3 April from 1900 BST on BBC Two Scotland.