London 2012: The real Florence Griffith-Joyner
By Saj Chowdhury
BBC Sport
Last updated on .From the section Athletics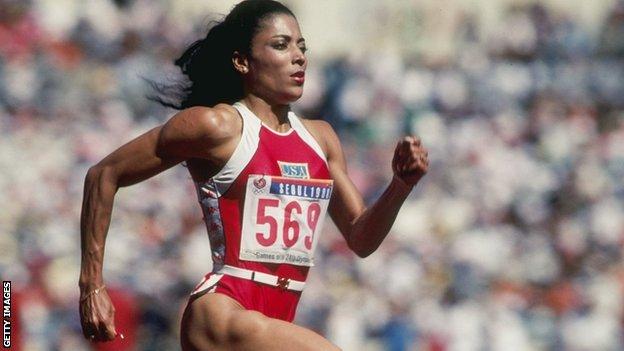 On 21 September 1998, Florence Griffith-Joyner died at home in California when she suffocated during a severe seizure in her sleep. She was 38.
Fellow three-time gold medal winner Jackie Joyner-Kersee was about 2,000 miles away in St Louis, Missouri when she was told the news about her sister-in-law.
"Al called me, I fell to the floor and had an asthma attack. Bobby asked me what was wrong and we got the first flight out to Los Angeles," Joyner-Kersee recalled.
Al was Griffith-Joyner's husband Al Joyner, the 1984 Olympic triple-jump champion, and Bobby was Bobby Kersee, her coach who became her husband.
It was a close-knit family, an American sporting dynasty who were, for the most part, celebrated by the country they grew up in.
But it was a family repeatedly bruised by insinuations that Griffith-Joyner had taken banned substances during her career.
Some had been puzzled as to how the Los Angeles-born sprinter had managed to knock almost half a second off her pre-1988 best to clock 10.49 seconds and set a new 100m record at that year's US Olympic trials.
A few weeks later, "Flo-Jo" followed that up with a new 200m world record in the Seoul final. Her time of 21.34 was an improvement of 0.62 in one year.
To put that into perspective, Carmelita Jeter's 10.64 for the 100m in 2009 and Marion Jones's 21.62 in 1998 for the 200m are currently the second best marks on the all-time list.
Among those who queried the achievements were Brazil's 800m gold medallist Joaquim Cruz and Griffith-Joyner's compatriot and fellow multiple gold-medal winner Carl Lewis. Neither Griffith-Joyner nor Joyner-Kersee, who was also the subject of whispers, ever tested positive for banned substances.
"It was very unfortunate," Joyner-Kersee, who won heptathlon and long jump gold in 1988, said of the suggestions.
"During that time [Canadian sprinter] Ben Johnson tested positive, so speculation and accusations ran rapid. I thought it was a discredit to Florence's ability.
"Florence ran a world record at our trials, then she consistently ran 10.50s and 10.60s.
"I don't think Florence cared if you liked her or not. She did things her own way. It was endearing to some but not to others. She didn't think much of those who thought negatively of her."
The women met at the University of California, Los Angeles (UCLA), a breeding ground for sporting greats including baseball star Jackie Robinson and tennis legends Arthur Ashe and Jimmy Connors.
Even at that time, Griffith-Joyner had a flamboyant look and she shared fashion ideas with Joyner-Kersee and her friends.
Through Joyner-Kersee, Griffith-Joyner met her friend's brother Al and the pair married a year before the Seoul Games.
"I was fortunate enough she ended up with my brother," continued the 50-year-old.
"I now have a continuing relationship with my niece [Griffith-Joyner's daughter Mary].
"I see Florence in Mary every time I see her."
Mary was six when her mother died. Joyner-Kersee explained that Griffith-Joyner had a rare disease and a lesion on her brain that caused seizures, adding that it was a problem that only surfaced when she gave birth to her daughter.
Her sudden death in 1998 only aroused further suspicion from athletes. But Joyner-Kersee said they showed a "lack of respect".
"They should not degrade Florence's name and should allow her daughter, as she grows and develops, to realise the significance of her mother and what she contributed to track and field, and to women in sport in general," she added.
"It's easy for people to focus on the negative, but my intention was that my niece should know her mother was a great woman.
"She didn't get to know her and is only now starting to understand the impact her mother had on our sport. It hurt when she passed away - she was only six."