Jade Nimmo breaks longstanding Scots long jump record
Last updated on .From the section Athletics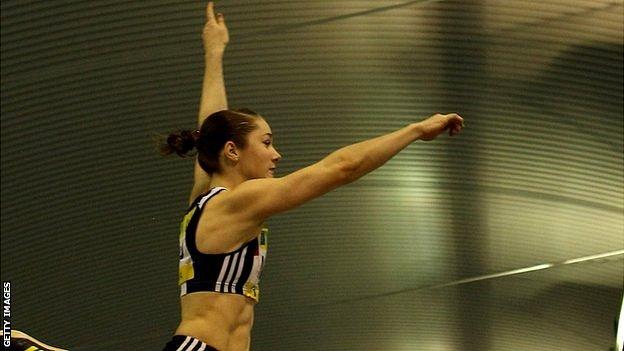 Young athlete Jade Nimmo has broken Scottish athletics' longest-standing record - the women's long jump.
The 21-year-old leapt 6.47m at the Hilltoppers Relay meeting in Kentucky, to beat the previous record which had lasted for almost 40 years.
Myra Nimmo, no relation of Jade, jumped a distance of 6.43m in 1973.
"Jade has been working hard all season and we felt all along she could reach this kind of level," said her coach, Darren Ritchie.
"She has put a lot of work in over the past few weeks and deserves every congratulation for making that count in her performance."
BBC Scotland presenter Rhona McLeod and GB bobsleigh international Gillian Cooke are two of those who tried - and failed - to beat the elder Nimmo's record.
And Myra Nimmo, now a Dean of Sports Science at Loughborough University, spoke of her relief that it had finally been broken: "I'm absolutely delighted my record has gone.
"The point is: records shouldn't be set in stone - they are targets and goals for people to aim for and overtake.
"For 10 years it was quite nice but after 20 it was embarrassing. Thereafter I just didn't want people mentioning it."
And she said she was confident her younger namesake could take confidence from her jump.
"If Jade can push on now and look to 6.55 for the European Championship qualifying standard then that would be great," she said.