Greg Rutherford equals British long jump record
Last updated on .From the section Athletics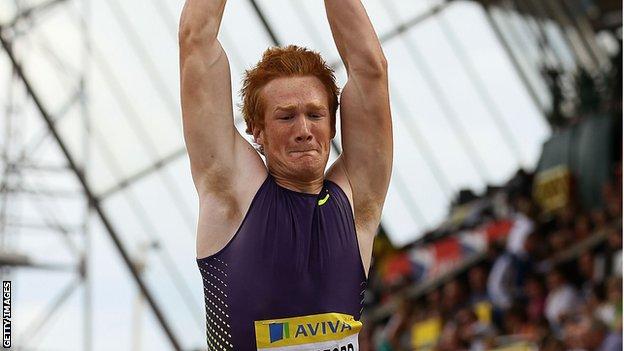 Greg Rutherford has equalled the British long jump record at the OTC-Pre-Olympic Series II in San Diego.
The 25-year-old from Milton Keynes jumped 8.35 metres on Thursday, equalling the national mark set by Chris Tomlinson last year while beating his personal best by five centimetres.
Rutherford tweeted: "Not a bad day. Personal Best in San Diego with a cheeky +2.0 (wind speed)!
"The OTC in San Diego is my new favourite place to jump."
Rutherford's leap means he must be considered a big hope for an Olympic medal later this summer.
BBC Sport athletics statistician Mark Butler said: "We waited 34 years for someone to break the British long jump record of Lynn Davies in 1968, and now, thanks to Rutherford and Tomlinson, there have been five national records in the past 10 years.
"A jump of 8.35 would do nicely at London 2012. It would have won a medal at any previous Olympic Games and is 1cm further than the distance which took gold in Beijing."
Rutherford is set to compete in his second Olympic tournament this summer after all but securing his place at London 2012 by jumping the qualification A-Standard in his first competitive outing of the season.
He recorded a leap of 8.20m at an invitational meeting in California.
His next competition will be the Diamond League meet in Doha on 11 May.