Record times set in men's and women's Belfast Marathon
Last updated on .From the section Athletics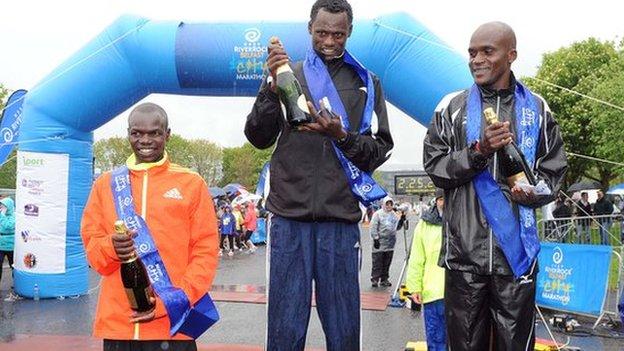 Record times were set by the male and female winners of the Belfast Marathon.
Urga Negewo from Ethiopia, a previous winner in 2010, won the men's race with a new record time of 2:13.41.
Kenyan David Kipserem Kisang finished second while last year's winner Jacob Chesire, also of Kenya, finished third.
Alice Chelangat from Kenya won the women's race in another record time of 2:39.02, almost 12 minutes outside her personal best. Russia's Yelena Kozevnikova was second.
She finished in 2:42.10, followed by Wioletta Kryza of Poland in 2:43.57.
It's the second year in-a-row that the men's race has been won in a record time.
Chesire destroyed the field by four minutes winning in 2.14.56 last year, breaking Marty Deane's record which stood since 1985.
Negewo knocked more than a minute off the record in wet and windy conditions.
Defending champion Chesire, who set a new Belfast record only last year, could only manage third place, in 2:18:09, behind fellow Kenyan Kipserem Kisang (2:15:57).
The first local runner home, in 2:29:43 and in eighth place, was Tommy Hughes, who was the last Northern Ireland athlete to win in Belfast, back in 1998.
Chelangat shaved 20 seconds off the existing women's record set by Marashet Jimma in 2008.
The wheelchair event was won by Darrell Erwin, from Ballymena.
Another record was broken, in terms of the number of competitors taking part in the main 26.2 mile race, with almost 3,800 people pounding Belfast's streets.
Taking into account the unique team relay, as well as the walk and fun run, organizers estimate that almost 21,000 took part in the event.