Colin Griffin becomes latest Irish Olympic qualifier
Last updated on .From the section Athletics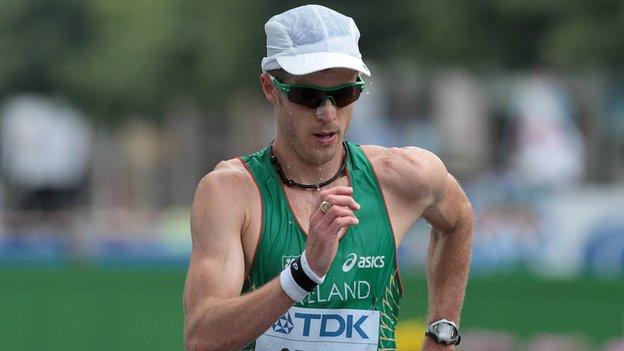 Walker Colin Griffin has become the 18th Irish athlete to qualify for the Olympics Games in London after achieving the 50K standard on Sunday.
Griffin was over six minutes inside the A standard as he clocked three hours 52 minutes and 55 seconds when finished 15th at the World Cup event in Russia.
The Leitrim man held his nerve after getting two warnings in the first 10K in Saransk to book his place in London.
Jamie Costin's hopes of qualifying were dashed as he failed to finish the race.
Costin has qualified for three previous Olympics.
Michael Doyle also failed to finish in Sunday's 50K event which took place in extremely hot conditions.
Olive Loughnane put in a confidence boosting performance in the women's 20k race as she finished eighth.
The world championship silver medallist set off at a conservative pace but moved well through the field to finish in a season's best of 1:31:32 .
Laura Reynolds was on the target for the Olympic standard for three quarters of the race however she faded in the latter stages finishing 35th in 1:37:06, outside her best of 1:34:42.
The race was won by Russia's Elena Lashmanova in 1:27:38.
Robert Heffernan, in training for the 50k walk at the Olympics, produced another solid performance to place 12th in 1:21.51 in the 20K event.
In the same race Brendan Boyce, who has dipped inside the Olympic qualification standard for the 50k walk on two occasions, finished 65th in 1:27.
World Youths champion Kate Veale finished an impressive sixth in the 10km junior event in 46:53 - only 21 seconds outside her personal best.
In the same race Emma Prendeville finished 45th while Luke Hickey was 54th and James Treanor was 59th in the junior men's 10k race.