BBC Sport extends Bupa Great Run coverage until 2018
Last updated on .From the section Athletics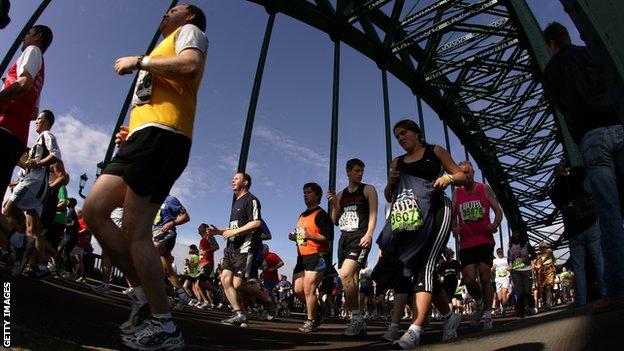 BBC Sport has extended its current deal for live broadcasting rights of the Bupa Great Run series until 2018.
The deal includes the world's biggest half marathon, the Great North Run, and the Great Manchester 10K Run.
"These events celebrate elite long distance athletics and inspire thousands of amateur runners," said BBC director of sport Barbara Slater.
The Great Edinburgh Cross-County competition and the Great City Games are also included in the deal.
The Great City Games are staged in both Newcastle and Manchester.
The latest contract extension adds to recent television rights acquired by the broadcaster.
These include US Masters (until 2014), Open Golf (until 2016),Wimbledon and Six Nations rugby (until 2017), World Athletics Championships (for 2015 and 2017) and the London Marathon until 2018.
The 2012 Great Manchester Run will be live on BBC Two at 10:00 BST on Sunday 20 May, followed by the Great Manchester City Games at 15:30 BST.