Ciara Mageean finishes second in 1000m race in Oslo
Last updated on .From the section Athletics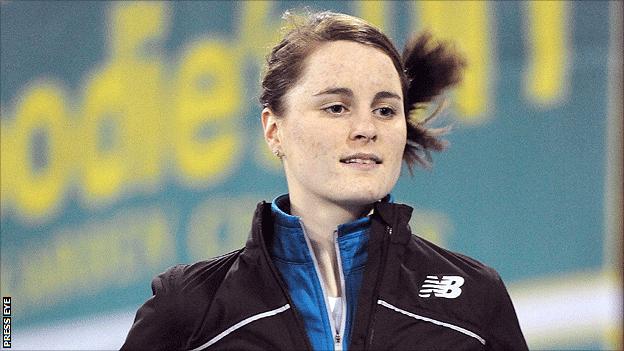 Ciara Mageean showed encouraging form in her search for an Olympic qualifying time as she finished second in a 1000m race in Oslo on Thursday night.
Mageean clocked a useful time of 2 minutes and 38 seconds as she was just pipped by Australian Zoe Buckman.
The Northern Irish athlete's run should give her confidence ahead of a 1500m outing in Morocco on Sunday evening.
The high-class race in Rabat could offer Mageean a chance to achieve the Olympic qualifying time.
Indeed, the inclusion of pacemakers could mean that it will be one of Mageean's best chances of achieving the Olympic Games A standard of 4 minutes and six seconds.
Mageean's current personal best is 4:07.45.
Top athletics agent Nic Bideau, the husband of Irish athletics legend Sonia O'Sullivan, has helped secure 2010 world junior silver medallist Mageean a place in the field in Rabat.
The Morocco race is being specifically organised for athletes chasing the Olympic mark and a fast pace should be guaranteed.
Meanwhile, Derry sprinter Jason Smyth will chase the Olympic 100m standard in Orlando on Saturday.
Smyth clocked 10.24 in Florida last weekend which is .06secs outside the Olympic A standard.
Like South African star Oscar Pistorius, Smyth's main career ambition is to compete at both this year's Olympic and Paralympic Games in London.
Smyth is scheduled to compete again next weekend at his regular Florida base of Clermont and has also received an invitation to the Diamond League meeting in New York on 9 June.