London 2012: Jubilee patriotism can kick-start Olympic excitement

By Steve Cram
BBC athletics commentator
Last updated on .From the section Athletics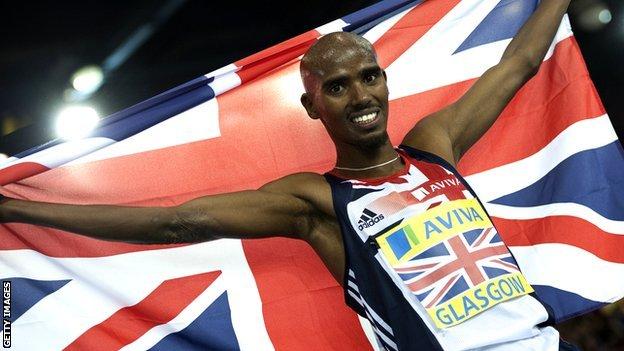 There's just so much going on at the moment... but I'm actually in Disneyland right now, enjoying a bit of Californian sunshine.
I'm in America where they couldn't be more patriotic. Their sports events always reflect that as well. You often hear athletes and football and basketball players forever singing the national anthem, which gets played at every match. They all pledge allegiance to the flag.
They're a very patriotic nation, whereas we sometimes play that down a little. Maybe the Jubilee has just brought that out a bit more in people, and not only athletes. This weekend has been a chance for our nation to fly the flag and show that we love our country, which is great.
Very early on in your career it's a massive thing to represent your country. The first vest you get, whether it be for England or for Great Britain, is a fantastic feeling. It's something that stays with you.
But over the years, as you get a little more world-weary, you focus more on your competitions.
We always used to look at the Aussies and see their patriotism. They have a real sense of representing their country in the wearing of their green and gold. Wearing your colours is a big thing.
These days we have much more of a corporate identity, in that you have to wear the kit in a partly sponsorship way. The sideline of that is that it makes you proud to wear the T-shirt and the strip.
Athletes have to be fairly selfish characters. If you're clever enough you can feed off patriotism. You use whatever. If you can generate a little more from yourself because you feel good about representing your country then all the better.
The real lift for the British athletes will be when they walk into those London arenas and hear the crowd and see the union jacks flying. That will give them a massive lift.
What the Jubilee has done is focus people's attention on how big it has been, and taken a hard swallow and think that the Olympics are going to be massive.
If people hadn't realised, what happened at the weekend is what it's going to be like at the Olympics. Some of the athletes will realise that too, and that's great.
In Rome this weekend, I thought Usain Bolt looked more focused. Less demonstrative on the start line, and he was playing up to the crowd less.
When you're really focused your mind isn't thinking of you on the camera. If you develop a little routine for yourself then fine, but if you're trying to make yourself look interesting… nah!
Because of what Bolt's done I think some athletes his age are thinking they should have something.
You can look great on the start line but if you run rubbish no-one will be looking at you next time.
The reason Bolt looks great doing it is because he breaks world records afterwards. Otherwise he'd look an idiot.
I think you've got to be really careful coming up with little gimmicks and things.
Oddly enough I was laughing with Mo Farah in Eugene. He's come up with the 'Mobot' when he finishes. That's fair enough if you've won the race, but I tell you what: if you're in the Olympics and you're scrapping for the line and you might only win by two hundredths you better not start thinking of the Mobot!
Athletes should be focusing on their performance first than on things like that.
Farah invented the Mobot on that panel show, A League of Their Own. The presenter, James Corden, challenged him to come up with a dance and he invented the Mobot.
It's a laugh and it's fine, but athletes need to focus on their performance first.