Ciara Mageean fourth in British Milers Club 1500m race
Last updated on .From the section Athletics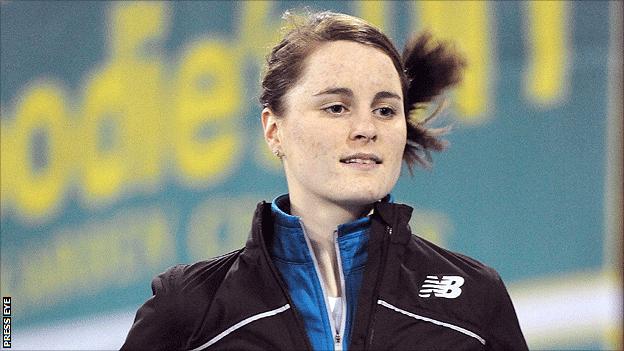 Ciara Mageean finished fourth in the 1500 metres race at Saturday's British Milers Club meeting in Watford.
Mageean, who has been selected for the European Championships in Helsinki, led with 200m to go but was passed by the German Sujew twins and another Irish athlete Orla Drumm.
Those behind Mageean, who clocked 4:13.30 included fifth placed Kelly McNeice [4:13.64] and Stephanie Twell.
Both Mageean and Drumm will run the 1500m for Ireland in Finland.
Diane Sujew won the race in 4:08.95 ahead of her twin Elina [4:11.47] while Drumm clocked 4:12.22.
The best Irish performance of the meeting was produced by Paul Robinson who broke 3:40 for the 1500m as he clocked 3:39.92 when taking fourth behind Jeremy Roff [3:39.47].
Rory Chesser also produced a personal best as he ran 3:40.74 to take fifth behind Robinson.
Roseanne Galligan produced a season's best of 2:03.49 as she finished sixth in the 800m won by Jessica Judd [2:01.09].
The European Championships from 26 June to 1 July should offer Mageean and Drumm their best opportunity of securing an Olympic qualifying time.
Both athletes are chasing the London mark of 4:06.00 with Mageean having set her personal best of 4:07.45 last year and the improving Drumm having clocked 4:09 this season.
Prior to the Helsinki event, Mageean, 20, is likely to have an 800m outing which will be a speed exercise.
The Portaferry athlete reached 800m in 2:10 in Saturday's race but after taking the lead on the final lap, she struggled over the closing 100 metres.