Ireland set to welcome Olympic stars to European Team event
Last updated on .From the section Athletics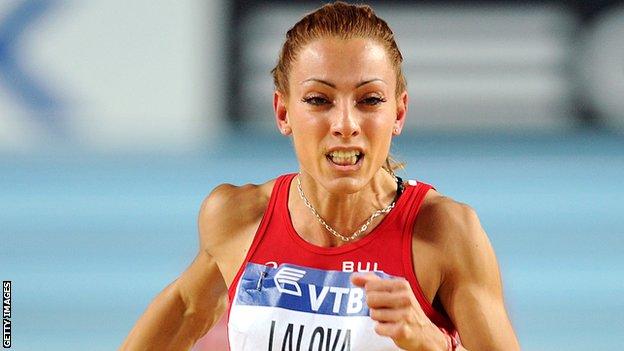 Irish athletics has been boosted by the announcement that next year's European Team Championship First League meeting will be staged at Santry Stadium.
A number of Olympic champions are likely to be in action at the event which will take place on 22/23 June.
Belgium, Bulgaria, Czech Republic, Estonia, Finland, Hungary, Netherlands, Portugal, Romania, Switzerland and Sweden will join the hosts in Dublin.
Athletics Ireland President Ciaran O'Cathain said the news was "huge".
Over the last 10 years, the World Cross Country Championship and European Cross Country have been staged in Ireland but the European Team event will be even bigger with over 650 athletes set to compete.
"This will not only benefit athletics throughout the country, it will also boost the country as a whole," added the Athletics Ireland president.
"We now look forward to delivering a world class event in June 2013."
The European Athletics Council announced the decision to award the event to Ireland on Tuesday after hearing a presentation from the Irish governing body.
Liam Hennessy, who led the Irish delegation, said that the event would help play a major "develop" role for the sport in Ireland.
"It's quite conceivable that we will have several Olympic champions from London in action at Santry," Hennessy told BBC Sport.
"It's a big coup for us. Recent weeks have also shown that we have a lot of young athletes coming through at the moment and this event will be a great motivation for them over the next 12 months.
"We are indebted to European athletics for entrusting us with this great honour.
"And Athletics Ireland is appreciative of the support given by the Irish Sports Council, Fingal County Council, Setanta Sports, Clonliffe Harriers and the National Sports Campus in the hosting of this event."
The event was previously known as the European Cup but its profile has increased significantly since the name change to the European Team Championship in 2009.
Men and women now compete as one national team with relegation and promotion battles in the four divisions.
Ireland currently compete in the First League which is one tier below the top Super League Division which will be staged at Gateshead next year.