Six Northern Ireland athletes on Irish team for Europeans
Last updated on .From the section Athletics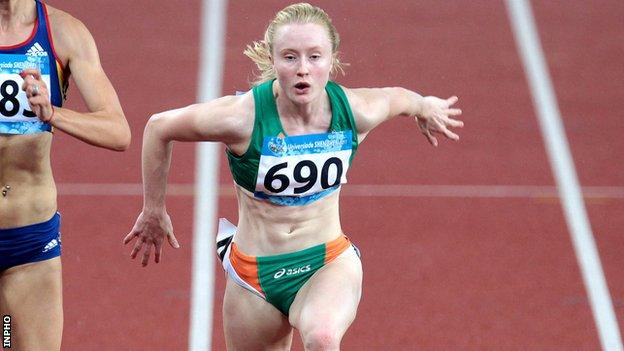 Six Northern Ireland athletes will compete for Ireland at the European Championships in Helsinki from 27 June to 1 July.
Athletics Ireland has not yet officially named the Irish team but the European Athletics Association released the event's final entries on Monday.
Jason Smyth, Ben Reynolds, Jason Harvey, Amy Foster, Ciara Mageean and Joanna Mills are all among the entries.
Harvey and Mills will be making their senior championship debuts for Ireland.
Harvey, who is coached by 2003 World Indoor 400m bronze medallist Paul McKee, will compete in the 400m hurdles alongside Thomas Barr after making a major breakthrough last season with a 50.65 clocking.
His best time so far this summer is 51.67 but he is picked up the basis of achieving the Helsinki standard last year.
Ballymena & Antrim athlete Mills is part of the 4x400m relay squad where the Irish women will be hoping to clinch their place at the London Olympics.
Mills, who has been picked for this year's World Junior Championships, was fourth in the 400m final at last year's European Junior Championships.
Sprinter Foster is picked for both the 100m and 200m after running 11.50 for the shorter sprint during her recent stint in the US - .01secs outside her Northern Ireland record set last year.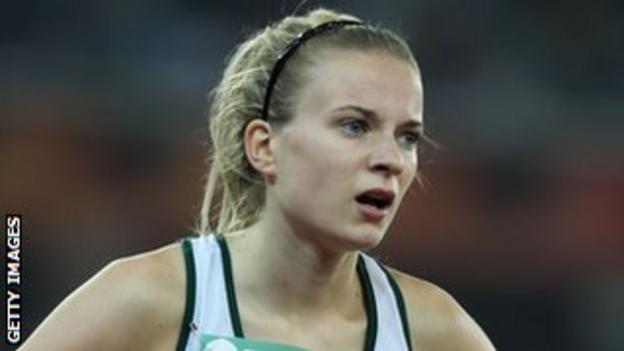 Smyth will continue his attempt to achieve the Olympic 100m standard in Helsinki.
The double Paralympic gold medallist from Beijing came within .06secs of the London 100m standard of 10.18 in Florida last month but clocked times of 10.34 and 10.39 in his two more recent races.
Like Oscar Pistorius, the Northern Irish sprinter is chasing a piece of athletics history by competing at both the Paralympics and Olympics later this summer.
Ciara Mageean will also be chasing an Olympic qualifying time in the women's 1500m in Finland.
Mageean's personal best from last year of 4:07.45 is only 1.45 seconds off the London mark but her best time for the distance so far this summer is 4:13.10.
Reynolds is picked for the 110 metres hurdles after running 13.75 last year and his best time this season is 13.81.
Derval O'Rourke is a notable omission from the squad while David Gillick has to be content with a 4x400m relay spot.
O'Rourke has opted out to concentrate on preparing for the Olympics while injury has meant that Gillick has been woefully out of form so far this season.
Mark English will not compete as he is concentrating on the World Junior Championships in Barcelona.
Ireland team
Men
100m: Jason Smyth
200m: Steven Colvert, Paul Hession
400m: Brian Gregan, Brian Murphy
1500m: Rory Chesser, Paul Robinson
10,000m: Mark Kenneally, David Rooney
110H: Ben Reynolds
400H: Thomas Barr, Jason Harvey
4x400m: Barr, Tim Crowe, David Gillick, Gregan, Harvey, Murphy
Women
100m: Amy Foster
200m: Foster
400m: Joanne Cuddihy
1500m: Ciara Mageean, Orla Drumm
10,000m: Fionnuala Britton
3,000m steeplechase: Stephanie Reilly
400H: Jessie Barr
Pole Vault: Tori Pena
4x400m: Claire Bergin, Michelle Carey, Caitriona Cuddihy, J Cuddihy, Marian Heffernan, Joanna Mills