Sir Roger Bannister considered retirement before four minute mile
Last updated on .From the section Athletics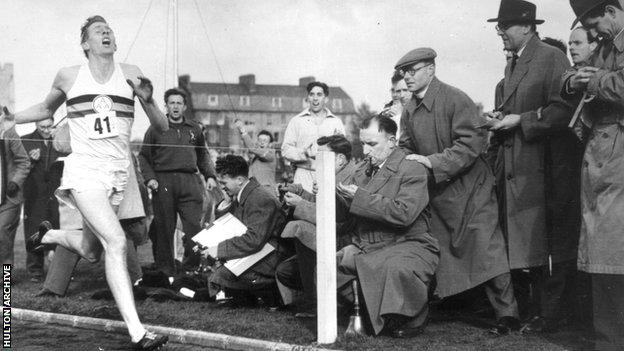 Sir Roger Bannister has revealed how his fourth place at the 1952 Helsinki Olympics changed sporting history.
He planned to retire if he won gold at the Games - and would not have gone on to run the first sub-four minute mile.
The 83-year-old told BBC Radio 5 liveSport, in an interview to be broadcast on 4 July: "I had to decide whether I would retire, which I would have done had I won the Olympic gold.
"Or I could carry on to the European games so decided on that and I then had the prospect of the four minute mile."
Sir Roger became the first man to run mile in under four minutes at Iffley Road track in Oxford on 6 May 1954.
Two years earlier he had been considered favourite for the 1500m at the Helsinki Olympics but an unusual schedule at the Games affected his chances.
"All previous Games had been a heat, two days' rest and a final," he explained.
"For whatever reason Helsinki changed it to heat, semi-final and final on consecutive days. So in the final, on the last bend, I was unboxed and perfectly placed to produce my usual sprint to the finish but my legs felt like jelly and obviously I'd exhausted my supplies of energy."
It meant he was able to make sporting history two years later. Sir Roger recalled: "I was just sprinting as hard as I could but I had no idea whether I had broken the four minutes and pretty well collapsed at the finish.
"It wasn't until I heard the announcement, which I suppose was three or four minutes later and the person doing the announcement was my friend Norris McWhirter, famous for the Guinness Book of Records, who said: 'Result of event number six, one mile, winner RG Bannister of Exeter and Merton Colleges, in a time which will be a new English record, a new track record, a new British Commonwealth Empire medal, a European medal, a world record, in three…' and he left it to that and then the crowd burst into clapping and cheering."
Sir Roger will return to the site of his world record in Oxford to take part in the Olympic torch procession.
Asked for his thoughts on the London Games, which begin on 27 July, he said: "It's the first time as far as I know in which all the facilities have been built and assessed before the Games and the legacy should be quite extraordinary.
"The Stratford area of east London has been a miserable dumping ground for waste, an eyesore, and only these Games would be able to lead to a renovation of that area, producing a country park in the middle of London.
"There are many, many competitors and I'm looking forward to it. I hope that [Jessica] Ennis wins the heptathlon.
"The coach expects nine medals from the whole of the athletics programme but doesn't want to predict what colour they will be. In Helsinki, after I had been unsuccessful, the only gold medal was won by a horse!"
The current mile record stands at three minutes 43.13 seconds, set by Moroccan Hicham El Guerrouj in 1999, and asked about the future of the event Sir Roger added: "I have said, and said in 1954, that I think the limit will be around three-and-a-half minutes, constructed as we are with lungs and legs as they are, I think that could be achievable."