London 2012: Parsons and Morse still hope to make Olympic squad
Last updated on .From the section Athletics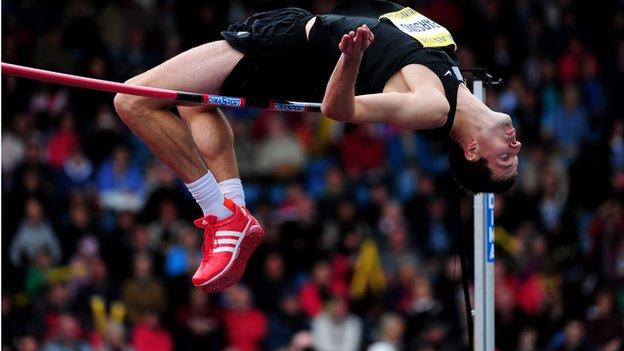 Birchfield Harriers duo Tom Parsons and Brett Morse head for this week's European Championships in Helsinki still looking to book their places for next month's London Olympics.
High jumper Parsons, a finalist at Beijing four years ago, could finish only third in last weekend's Olympic trials at the Alexander Stadium.
But he has another chance to reach the 2.28m Olympic standard in Helsinki.
And hammer thrower Morse is also still hopeful of being selected next Tuesday.
"I hope I've done enough," Morse, who took silver in the trials but also does not yet have the Olympic 'A' standard, told BBC WM.
"I'm getting season's bests every week and I did well at the trials.
"I'm disappointed I didn't win, but it's another season's best so I'm happy with that."
As for Parsons, who finished third behind Robbie Grabarz and Samson in Birmingham, he is hoping to better the 2.24m he jumped in difficult conditions at the wet and windy Alexander Stadium.
"I've been there and done it before and made the final, so I know I can do it," he said. "I've just got to believe in myself.
"But I've certainly got my work cut out to do it.
"I'll keep plugging away and hopefully salvage something from the season.
"I'm disappointed not to come second and get 2.28m. It's a case of what could have been.
"The conditions weren't great. There was a big head wind and then it started raining halfway through, so I knew I was up against it.
"I was very close to jumping 2.28m, which would have been good in this weather.
"I'd like to have another crack at the Europeans and try to make the final. There was a thunderstorm last time, which made it bit of a nightmare.
"But, hopefully, I'll get another shot in better conditions."