London 2012: Javelin's Goldie Sayers expects tough medal battle
Last updated on .From the section Athletics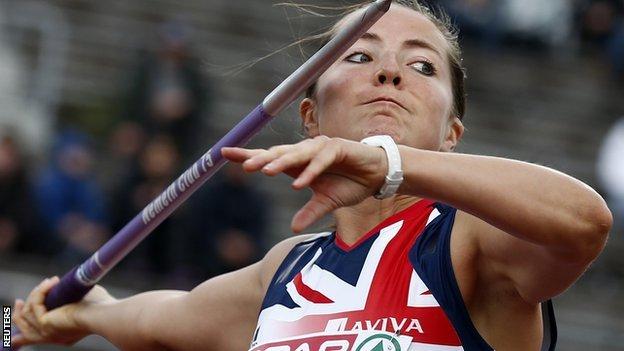 British record holder Goldie Sayers expects the women's javelin to be one of the most difficult events to win at the upcoming London Olympics.
Sayers, who will be 30 next week, believes "eight, if not 10 people" are capable of winning a medal in London.
"I'm in an event that's just got stronger and stronger for the last four years," she told BBC Radio Suffolk.
"If you look down the card at all the Olympic events, the javelin is probably the most competitive at the top end."
Sayers, born in Newmarket but based in Ely, will be competing in her third Olympics when the Games come to London.
And she is hoping to go one better than Beijing four years ago when she had to settle for fourth place despite her British record throw of 65.75 metres.
She also finished fourth at the recent European Championships in Turkey with a 63m effort but is confident she can challenge for a medal at London.
"It was good preparation, the European Championships are almost as strong as the Olympics for javelin.
"I just missed out on a medal but it was a good [performance] and gave me an idea of where I need to sharpen up," Sayers said.
"The frustrating thing with javelin is it's not one of those events where you can try as hard as you can and it comes off. It's very, very technical but there's a few things I can tweak to get some more metres, for sure."
South Africa's Sunette Viljoen produced the longest throw in the world this year, registering 69.35m in New York last month.
But Sayers added: "I think a medal could be anywhere in the region of 70m, it could be 65, it really just depends what happens on the day, but I'll just make sure I'm in and amongst it."