Dropped Catriona Cuddihy to make Olympic relay appeal
Last updated on .From the section Athletics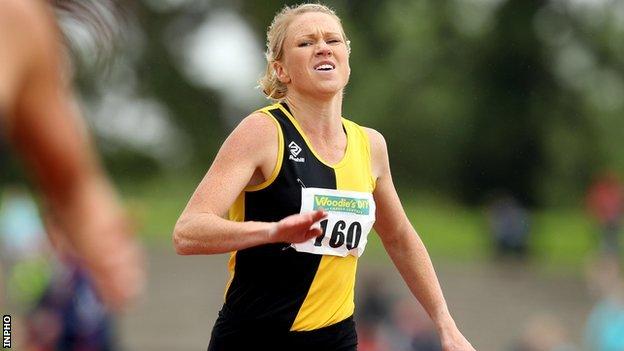 Catriona Cuddihy plans to make an appeal after she was dropped from the Ireland 4x400m relay squad for the Olympics in London.
Cuddihy's place has been taken by Northern Ireland athlete Joanna Mills, who won her appeal against her omission from the six-strong squad.
Teenager Mills argued that she was the sixth-best 400m runner in Ireland this season and faster than Cuddihy.
Cuddihy will lodge a counter appeal to the Olympic Council of Ireland.
Cuddihy's personal best of 54.59, set on 10 June at Bedford, is slower than Mills' seasonal best.
Mills was fourth in the individual 400m final at last year's European Junior Championships and has a personal best of 53.89 set at that event in Estonia.
An upset Cuddihy finished fifth in the 400m at the Irish Championships on Sunday.
"It was very hard to concentrate, because I've been so upset," said Cuddihy after the race.
"I'd just been trying to focus on keeping it together to run fast and I'm happy I ran, I did the best that I could and that's all I could do."
Her older sister Joanne Cuddihy, who is in the Olympic 400m relay team, was angered at Catriona's deselection after winning the race at Santry.
"The relay (situation) has been heart-wrenching for her and for absolutely everyone on the team, it's just been unfair," said Joanne.
"I'm just a bit baffled by the whole thing. So many things should, and could, have been done differently. The way it's happened has just been cruel."