Olympic marathon: Guor Marial, running for the world
Last updated on .From the section Athletics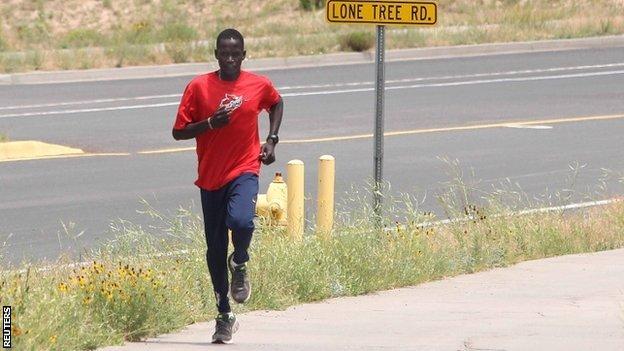 Guor Marial will not be representing a country when he takes part in the men's Olympic marathon at 11:00 BST on Sunday because, in his own words, he is "representing the whole world".
The 28-year-old is running under the Olympic flag and will pound his way around the 26.2-mile course wearing the black and grey uniform of an independent Olympic athlete.
He is one of just four independent athletes chosen by the International Olympic Committee (IOC) to run at London 2012.
When Marial told the story of his selection at a media session this week he received a round of applause.
A decade ago, Marial fled a refugee camp in what is now South Sudan during the civil war that ravaged the region for more than 20 years and left more than four million nationals displaced.
Marial lost 28 relatives during the conflict and has not seen his family for almost two decades.
"Growing up in the war it was dangerous and hard," Marial explained. "It was about survival of the fittest. If you survived one day, OK, what's going to happen the next day? Growing up there, I did not know the outside world.
"When I left the village and [went] to the city and came to Cairo and the United States, the world kept opening and opening. There are other things, not just about killing each other.
"I feel fortunate to have that, to have that background. That's helped me with my running and my everyday life."
The budding athlete arrived in the US as a child but does not have US citizenship, putting him out of contention for their Olympic team.
And when he was offered a place at the Games under Sudan's flag, he turned it down.
In the end, the IOC decided to give him a place as an independent because South Sudan, which formally gained independence from Sudan in 2011, has not yet joined the Olympic movement.
Marial may not be running for South Sudan but it is to his remaining family there that his thoughts will turn when he takes his place on the Olympic marathon starting line.
"I just want to tell them I love them so much and I'm here for them," he said.
"The whole country will be with me here. [I hope to] bring awareness to the country and hope the young generation will see me and will be able to dream high for the years to come."
As for his chances in the competition, Marial has only run two marathons in his life but finished both of them inside the Olympic qualifying time of two hours, 15 minutes and has a personal best of 2:12:55.
"I'm going into the race open minded," said the Arizona-based athlete. "I will just go there and see what happens."
He may not be running for a nation but instead he embodies something much more important, the Olympic spirit - uniting people through sport and allowing athletes to compete to their best.