Heptathlete Louise Hazel considers quitting for new sport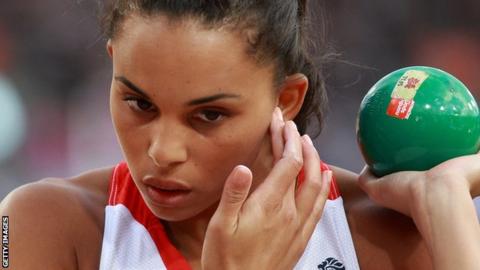 Reigning Commonwealth Games heptathlon champion Louise Hazel has confirmed she is contemplating turning her back on athletics to try a different sport.
The 26-year-old won gold for England in Delhi two years ago but finished 27th at the recent London Olympics.
"My life's a little bit in limbo - I'm not quite sure what direction I'm going to take next," she told BBC Radio Cambridgeshire.
"I can't say too much, but there is a possibility of a change of sport."
Hazel threw a personal best 47.38 metres in the javelin but her London 2012 total of 5,856 points left her almost 1,000 adrift of gold medallist Jessica Ennis, and over 400 behind of teenager Katarina Johnson-Thompson, the third member of the Great Britain trio, in 15th place.
"Obviously it was an amazing day for athletics, 'Super Saturday', three gold medals. We couldn't have asked for more from the sport.
"But on a personal level, for me, it was kind of like 'OK, I gave it my best shot but more importantly, I've achieved something [competing at the Olympics] that I dreamt of since I was a little girl'.
"That to me was more important than my [Commonwealth Games] gold medal, just achieving that," she said.
Hazel was recently quoted as saying she had entered a forthcoming golf tournament - golf will be an Olympic sport in 2016 - and was also planning to find out more about beach volleyball.
However, she insisted that although she needed to make a decision in the near future because of the four-year Olympic cycle, she would not be rushing it.
"A change of sport would perhaps mean hanging up the spikes and donning some other sporty kit, but it's very much at an early stage of I'm just thinking about it," she added.
"I'm going to take a nice long holiday before I make any decisions."