Mo Farah celebrates two-mile Diamond League victory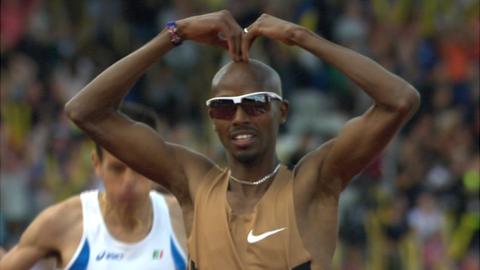 Britain's double Olympic champion Mo Farah returned to the track in style with a win at the Diamond League meeting in Birmingham.
Farah, who won gold in both the 5,000m and 10,000m at London 2012, won the two-mile race with ease.
The 29-year-old now has three reasons to celebrate after his wife Tania gave birth to twin girls on Friday.
"What a year I have had, it will never happen again. Two gold medals and two girls," said Farah.
"It was awesome," he added. "It hasn't been easy since the Olympics, with my daughters being born and everything that has been going on, but I want to thank everyone for all their help this year.
"I was a bit worried going into the race because I have not done much training because I have been doing a lot of running around, so to win was fantastic."
Tyson Gay, who was running the 200m for the first time in two years, finished second just behind Jamaican Nickel Ashmeade.
In the same race, British youngster Adam Gemili ran a personal best time of 20.53 seconds as he came in sixth place, ahead of fellow Briton Christian Malcolm.
In the women's 100m, Olympic silver medallist Carmelita Jeter beat the gold medallist from London 2012, Shelly-Ann Fraser-Pryce, as the duo raced for the second time in four days.
The American ran a time of 10.81 seconds to ensure the same result as in the meeting in Lausanne earlier in the week.
Elsewhere Robbie Grabarz continued his impressive season, winning the high jump competition with a height of 2.32 metres.
The 24-year-old won high jump bronze at London 2012 and believes that is just a taste of things to come.
"Last year I would have bitten anyone's hand off to be in that Olympic final, let alone get a medal," he said.
"There's loads of improvements I can make and I no way feel maxed out in any area. I know there's a lot to work on and my coach and I will sit down at the end of the season and discuss where we want to go.
"Coming from 44th in the world to winning an Olympic medal is no mean feat and it's a credit to the hard work I've done, but there's always going to be a little bit of me that wants more."
There was no happy return to action for Olympic champion Greg Rutherford, who finished third in the long jump.
The 25-year-old who won gold at London 2012 was beaten by Aleksandr Menkov of Russia, who won the event with a distance of 8.18 metres, and American Christian Taylor.
Rutherford, who became the first Briton since Lynn Davies in 1964 to win the Olympic long jump title, was left disappointed by his performance.
"I felt good going into the jump, until I got into the pit after my first jump when I felt a bit of a twinge in my groin and maybe I was a bit silly to carry on," he said.
"I thrive off the thought of people gunning for me, I came here for feeling good, albeit a bit lethargic after the events of the last few weeks.
"But I am a professional athlete I should be able to come out here and perform today. I feel like I let a few people down today."
Britain's Perri Shakes-Drayton finished second in the 400m hurdles - just behind Kaliese Spencer, who was then disqualified.
The Jamaican appealed the decision which was upheld and she claimed victory.
Shakes-Drayton narrowly missed out on a place in the 400m hurdles final at London 2012 after only finishing third in her semi-final.
"The big thing I have learnt this year is that in sport anything can happen," she said.
"I have put my disappointment in the Olympics behind me because there's nothing I can do about it, I just need to use it to spur me on and come back stronger."
Fellow Briton Christine Ohuruogu matched her achievement at London 2012 by finishing second in the 400m.
She ran a time of 50.67 seconds but it was only good enough for second behind Jamaican Rosemarie Whyte, while fellow Brits Nicola Sanders and Shana Cox finished seventh and eighth respectively.
Laura Weightman,who reached the 1500m final at the Olympics, finished second in Birmingham just behind American Anna Pierce.
The 21-year-old ran almost four seconds faster than she did in London, while Hannah England finished in fourth.