Hurdler Jack Green resists temptation to switch to flat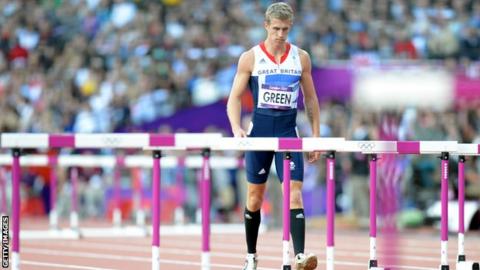 Kent's GB 400m Olympic hurdler Jack Green says he will not switch to running the 400m flat.
The 20-year-old helped Team GB finish fourth in the 4 x 400m relay final at London 2012 but has not been tempted to switch events.
He told BBC Radio Five Live: "I could see myself doing well in the 400 and breaking into the top 10 in the world.
"But I can really see myself doing something special in the hurdles. With the speed I've got, you never know."
Green crashed out of the semi-finals in the 400 hurdles at the Olympic Games, falling in the back straight.
He said he was so nervous he felt 'like a nine-year-old boy'.
Now he plans to use his Olympic experience to boost his chances at next year's World Championships and Rio 2016.
"It was good exposure for me to go to a home Olympics, it's a huge thing," Green said.
"I could be going for a gold medal. That's what everybody is aiming for and hopefully I'll be in that position.
"I've been through all that pressure and hopefully I'll be able to deal with that now."
After deferring a year at the University of Bath, the Kent AC athlete will also be returning to his studies.
Under the tutelage of hurdling guru Malcolm Arnold in Bath, Green not only qualified for the European Junior Championships, but the World Championship in Daegu in 2011.
Green was optimistic the 72-year-old Arnold would coach him through to Rio.
"He still has another year in him," he said. "We've got a great group. He's had this every single Olympics, so he can't really leave us after a year."
Green concluded: "Hopefully he'll stay on for the rest of my career."