Greg Rutherford urges Charles Van Commenee to stay on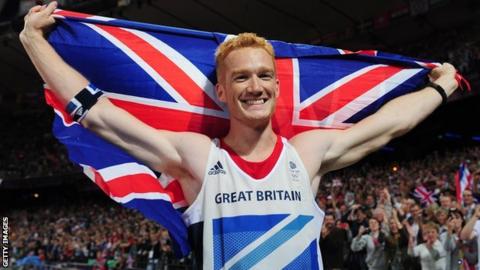 DIAMOND LEAGUE: BIRMINGHAM GRAND PRIX
Date:

Sunday 26 August

Time:

13:00 - 17:00 BST

Coverage:

Live on BBC Two and BBC Sport website (14:00 - 17:00 BST); reports on BBC Radio 5 live and BBC Sport website

Key event times:

15:04 women's 400m hurdles; 15:09 men's high jump; 15:24 men's long jump; 15:38 - women's 100m; 15:48 men's 110m hurdles; 16:33 men's 200m; 16:43 men's two miles
Long jumper Greg Rutherford has urged Charles van Commenee to stay on in his role as UK Athletics head coach, admitting he owes his Olympic gold medal to the Dutchman.
Van Commenee's contract is up at the end of the year and he is currently on holiday while he decides on his future.
"I'd love him [Van Commenee] to stay," said Rutherford.
The 25-year-old competes for the first time since winning gold at London 2012 on Sunday at the Birmingham Grand Prix.
Rutherford also revealed he would have no hesitation in following his American coach Dan Pfaff, who was brought to Great Britain by Van Commenee, to Texas should he also choose to return to the United States.
He added: "Charles was the catalyst to start the ball rolling and bring people in, bringing in Dan was a stroke of genius."
Rutherford secured his first major championship gold medal at the Olympic Stadium with a leap of 8.31m on 4 August.
But Van Commenee has expressed concerns his credibility could be harmed if he stays in his job, after the British team fell short of his target of eight medals at London 2012.
"I understand where he's coming from but we still walked away with six medals, four of them gold," Rutherford added. "I think Charles is very hard on himself.
"For a lot of people it did work - Jess [Ennis], Mo [Farah], Robbie [Grabarz], Christine [Ohuruogu] and myself - and I think he should take a lot of credit for that.
"If it continues the way it's going we could see many more medals at the next Olympics and I think we need someone like Charles at the helm."
And Rutherford claims the majority of British athletes are also desperate for him to stay as well.
"I had a couple of conversations after I'd competed [at the Olympics] and said I wanted him to stay," he added.
"I'm hoping that he takes that on board and he understands 99% of the team really likes him and thinks he's done a fantastic job."