Northern Ireland marathon runner Moira O'Neill dies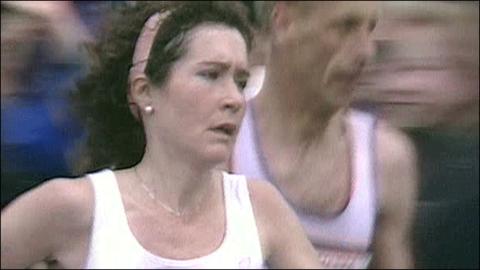 Former Belfast and Dublin marathon winner Moira O'Neill has died after a long illness, aged 57.
O'Neill was Northern Ireland's most successful marathon runner for many years and her achievements raised the profile of the 26.2-mile event.
She finished eighth in the marathon at the Commonwealth Games in Edinburgh in 1986 and 12th in the Auckland games four years later.
O'Neill's Belfast victories came in 1985 and 1986, with Dublin in 1988.
Her Dublin time of two hours, 37 minutes and seven seconds is still the second fastest in the Northern Ireland all-time list.
O'Neill's family came from Letterkenny in Co Donegal, but her parents moved to Scotland where she was born.
She was a community worker in Glasgow before moving to Belfast where she became manager of Whiterock Leisure Centre.
Her first marathon victory came in the 1982 Foyle Marathon which she won in three hours, five minutes.
She obliterated that time the following year with a win at the same event in 2:47.58.
This marked the start of a golden seven-year period during which she consistently set NI records.